"Book Beginnings"
is a weekly event that shares the first sentence (or so) of the book you are reading, along with your initial thoughts about the sentence, impressions of the book, or anything else the opener inspires.
"The Friday 56"
is also a weekly event, sharing a sentence from page 56 or 56% in your eReader (If you have to improvise, that's ok.)
My Pick This Week:
Fangirl by Rainbow Rowell
"There was a boy in her room.
Cath looked up at the number painted on the door, then down at the room assignment in her hand.
Pound Hall, 913.
This was definitely room 913, but maybe it wasn't Pound Hall—all these dormitories looked alike, like public housing towers for the elderly. Maybe Cath should try to catch her dad before he brought up the rest of her boxes."
~ p. 1
"Reagan was staring at Cath now, frowning. She was wearing tight black jeans and a black top. Maybe she was going out, not to work.
"Your trash can is full of energy bar wrappers," Reagan said.
"You were looking through my trash?" Cath felt a rush of anger.
"Levi was looking for a place to spit out his gum.… So? Do you have an eating disorder?"
"No," Cath said, pretty sure it was exactly what she'd say if she did have an eating disorder.
"Then why don't you eat real food?"
"I do." Cath clenched her fists. Her skin felt drawn and tight. "Just. Not here."
"Are you one of those freaky eaters?"
"No. I—" Cath looked up at the ceiling, deciding that this was one of those times when the truth would be simpler than a lie. "—I don't know where the dining hall is."
~ p. 56
My Thoughts:
I'm a little late to the game when it comes to Rainbow Rowell. It was only this summer that I read my first book from her,
Eleanor and Park
, which I adored. Rainbow has superb character-building skills and made two offbeat, quirky characters so relatable and lovable, I had to have more.
The two quotes I chose reflect what I like about Rainbow -- Realistic Fiction that's
actually
realistic. Cath is awkward and strange, and I can't wait to learn more about her.
Book Synopsis: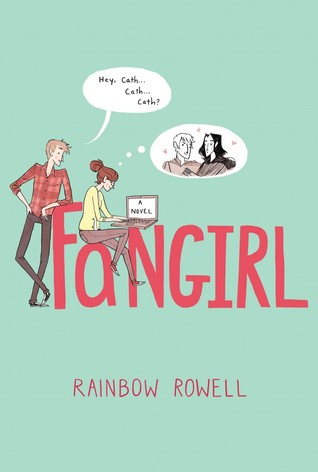 Genres: YA, Contemporary, New Adult, Realistic Fiction

Release Date

:

September 10, 2013
A coming-of-age tale of fan fiction, family and first love.

Cath is a Simon Snow fan.

Okay, the whole world is a Simon Snow fan...

But for Cath, being a fan is her life—and she's really good at it. She and her twin sister, Wren, ensconced themselves in the Simon Snow series when they were just kids; it's what got them through their mother leaving.

Reading. Rereading. Hanging out in Simon Snow forums, writing Simon Snow fan fiction, dressing up like the characters for every movie premiere.

Cath's sister has mostly grown away from fandom, but Cath can't let go. She doesn't want to.

Now that they're going to college, Wren has told Cath she doesn't want to be roommates. Cath is on her own, completely outside of her comfort zone. She's got a surly roommate with a charming, always-around boyfriend, a fiction-writing professor who thinks fan fiction is the end of the civilized world, a handsome classmate who only wants to talk about words... And she can't stop worrying about her dad, who's loving and fragile and has never really been alone.

For Cath, the question is: Can she do this?

Can she make it without Wren holding her hand? Is she ready to start living her own life? Writing her own stories?

And does she even want to move on if it means leaving Simon Snow behind?