Top 5 Best Book Covers is monthly meme created by
The Ramblings of a Coffee Addicted Writer
. The rules are simple: on the first Saturday of every month, post your 5 favorite books covers that are being released in the current month!
#1

Title:

Ticker

Author:

Lisa Mantchev (Facebook | Twitter)

Genre:

YA, Steampunk

Release Date:

December 1, 2014 A girl with a clockwork heart must make every second count.


When Penny Farthing nearly dies, brilliant surgeon Calvin Warwick manages to implant a brass "Ticker" in her chest, transforming her into the first of the Augmented. But soon it's discovered that Warwick killed dozens of people as he strove to perfect another improved Ticker for Penny, and he's put on trial for mass murder.

On the last day of Warwick's trial, the Farthings' factory is bombed, Penny's parents disappear, and Penny and her brother, Nic, receive a ransom note demanding all of their Augmentation research if they want to see their parents again. Is someone trying to destroy the Farthings...or is the motive more sinister?

Desperate to reunite their family and rescue their research, Penny and her brother recruit fiery baker Violet Nesselrode, gentleman-about-town Sebastian Stirling, and Marcus Kingsley, a young army general who has his own reasons for wanting to lift the veil between this world and the next. Wagers are placed, friends are lost, romance stages an ambush, and time is running out for the girl with the clockwork heart.
Why I Picked It:

I haven't read Steampunk; however, I love the idea of it. The Victorian era style of dress appeals to me, so I'm always intrigued in the covers. With this cover specifically, I love the combination of green and gold. It makes the cover appear quite sinister without taking away from the beauty.
-



#2

Title:

Two Renegade Realms

Author:

Realm Walkers, Book #2

Author:

Donita K. Paul (Facebook)

Genre:

YA, Fantasy

Released:

December 23, 2014

In book two of the Realm Walkers Series, Cantor, Bixby, and Dukmee must band together to find the storied realm walker Chomountain after the devastating attack by the corrupt Realm Walkers Guild. But what they discover while traveling turns their mission upside down and they must now find a way to restore Chomountain.

Why I Picked It:

I'll admit, there's a lot going on. So much so, I can't really tell what I'm looking at. That said, it's a gorgeous kind of chaos.


-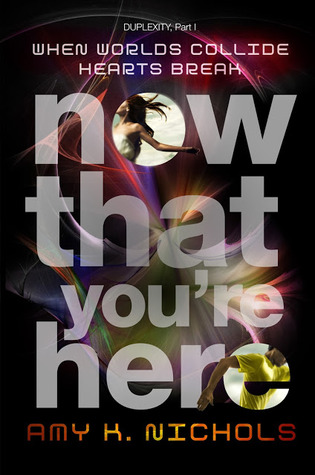 #3

Title:

Now That You're Here

Title:

Duplexity, Book #1

Author:

Amy K. Nichols (Facebook | Twitter)

Genre:

YA, Science Fiction, Fantasy

Release Date:

December 9, 2014 In a parallel universe, the classic bad boy falls for the class science geek.

One minute Danny was running from the cops, and the next, he jolted awake in an unfamiliar body--his own, but different. Somehow, he's crossed into a parallel universe. Now his friends are his enemies, his parents are long dead, and studious Eevee is not the mysterious femme fatale he once kissed back home. Then again, this Eevee--a girl who'd rather land an internship at NASA than a date to the prom--may be his only hope of getting home.

Eevee tells herself she's only helping him in the name of quantum physics, but there's something undeniably fascinating about this boy from another dimension . . . a boy who makes her question who she is, and who she might be in another place and time.

And, coming soon, Duplexity, Part II: While You Were Gone flips this story on its head and tells the tale of the alternate Danny and the alternate Eevee, living in Danny's parallel world.

Why I Picked It:

I love this cover so much. So unique. I love how the two characters are in the "Es" running in opposite directions.

-
#4

Title:

Ravencliffe

Series:

Blythewood, Book #2

Author:

Carol Goodman (Facebook | Twitter)

Genre:

YA, Gothic Fantasy

Released:

December 2, 2014 Avaline Hall is no ordinary girl.


She's a student at Blythewood Academy, an elite boarding school that trains young women to defend human society from the shadowy forces that live among us. After the devastating events of her first year at Blythewood, Ava is eager to reunite with her friends—and with Raven, the compelling but elusive winged boy who makes her pulse race. She soon discovers, though, that the sinister Judicus van Drood hasn't finished wreaking havoc on Blythewood—and wants to use Ava and her classmates to attack a much bigger target.

Ava's the only one with any hope of stopping van Drood. But to scuttle his plans, she must reveal her deepest secret to everyone at Blythewood. What's she willing to sacrifice to do what's right—her school? Her love? Or her life?

Why I Picked It:

I am not sure why I'm so drawn to this cover. It's got an element of realness and fantasy that appeals to me.


-
#5

Title:

Zodiac

Series:

Zodiac, Book #1

Author:

Romina Russell

(

Twitter

)

Genres:

YA, Fantasy, Science Fiction, Astrology

Released:

December 9, 2014




At the dawn of time, there were 13 Houses in the Zodiac Galaxy. Now only 12 remain….


Rhoma Grace is a 16-year-old student from House Cancer with an unusual way of reading the stars. While her classmates use measurements to make accurate astrological predictions, Rho can't solve for 'x' to save her life—so instead, she looks up at the night sky and makes up stories.

When a violent blast strikes the moons of Cancer, sending its ocean planet off-kilter and killing thousands of citizens—including its beloved Guardian—Rho is more surprised than anyone when she is named the House's new leader. But, a true Cancerian who loves her home fiercely and will protect her people no matter what, Rho accepts.

Then, when more Houses fall victim to freak weather catastrophes, Rho starts seeing a pattern in the stars. She suspects Ophiuchus—the exiled 13th Guardian of Zodiac legend—has returned to exact his revenge across the Galaxy. Now Rho—along with Hysan Dax, a young envoy from House Libra, and Mathias, her guide and a member of her Royal Guard—must travel through the Zodiac to warn the other Guardians.

But who will believe anything this young novice says? Whom can Rho trust in a universe defined by differences? And how can she convince twelve worlds to unite as one Zodiac?