Each week we will post a characteristic and choose 5 of our favorite cover's with that characteristic.
#5

VALIANT

Author:

Sarah McGuire (Twitter)

Genre:

YA, Fantasy, Fairy Tales, Middle Grade
Saville despises the bolts of velvet and silk that her father loves- he's always prized them more than he's ever loved her. Yet when he's struck ill, she'll do anything to survive, even donning boys' clothes and begging a commission to sew for the king.
Piecing together a fine coat is far simpler than unknotting court gossip about an army of giants led by a man who cannot be defeated. And they're marching toward Reggen to seize the throne. But Saville knows giants are just stories, and no man is immortal.
Then she meets them, two scouts as tall as trees. She tricks them into leaving, but tales of the daring tailor's triumph quickly spin into impossible feats of giant-slaying. And mere stories won't deter the Duke and his larger-than-life army.
Now only a courageous and clever tailor girl can see beyond the rumors to save the kingdom again.
-

#4

DEATH MARKED

Book Series:

Death Sworn, Book #2

Author:

Leah Cypess (Twitter)

Genre:

YA, High Fantasy, Magic, Romance

A young sorceress's entire life has been shaped to destroy the empire controlling her world. But if everything she knows is a lie, will she even want to fulfill her destiny? The sequel to Death Sworn is just as full of magic and surprising revelations, and will thrill fans of Leigh Bardugo and Robin LaFevers.

At seventeen, Ileni lost her magical power and was exiled to the hidden caves of the assassins. She never thought she would survive long. But she discovered she was always meant to end up, powerless, in the caves as part of an elder sorcerer's plan to destroy the evil Empire they'd battled so long. Except that Ileni is not an assassin, and she doesn't want to be a weapon. And, after everything, she's not even sure she knows the truth. Now, at the very heart of the Empire—its academy for sorcerers—the truth is what she seeks. What she finds challenges every belief she holds dear—and it threatens her fledgling romance with the young master of assassins.

Leah Cypess spins an intricate and beautiful conclusion to Ileni's story. In the end, it may not be the epic decisions that bring down an empire, but the small ones that pierce the heart.
-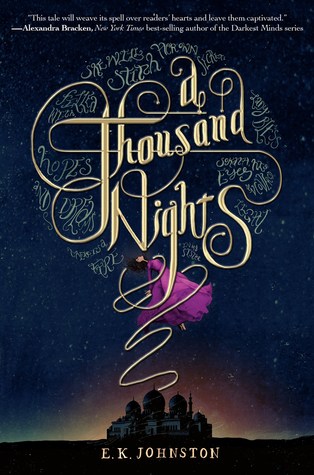 #3

A THOUSAND NIGHTS

Author:

E.K. Johnston (Twitter)

Genre:

YA, Fantasy, Fairytale Retold

Lo-Melkhiin killed three hundred girls before he came to her village, looking for a wife. When she sees the dust cloud on the horizon, she knows he has arrived. She knows he will want the loveliest girl: her sister. She vows she will not let her be next.

And so she is taken in her sister's place, and she believes death will soon follow. Lo-Melkhiin's court is a dangerous palace filled with pretty things: intricate statues with wretched eyes, exquisite threads to weave the most beautiful garments. She sees everything as if for the last time.But the first sun rises and sets, and she is not dead. Night after night, Lo-Melkhiin comes to her and listens to the stories she tells, and day after day she is awoken by the sunrise. Exploring the palace, she begins to unlock years of fear that have tormented and silenced a kingdom. Lo-Melkhiin was not always a cruel ruler. Something went wrong.

Far away, in their village, her sister is mourning. Through her pain, she calls upon the desert winds, conjuring a subtle unseen magic, and something besides death stirs the air.

Back at the palace, the words she speaks to Lo-Melkhiin every night are given a strange life of their own. Little things, at first: a dress from home, a vision of her sister. With each tale she spins, her power grows. Soon she dreams of bigger, more terrible magic: power enough to save a king, if she can put an end to the rule of a monster.
-
#2

RUMP: THE TRUE STORY OF RUMPELSTILTSKIN

Author:

Liesl Shurtliff (Twitter)

Genre:

Middle Grade, Fantasy, Fairytale Retold

In a magic kingdom where your name is your destiny, 12-year-old Rump is the butt of everyone's joke. But when he finds an old spinning wheel, his luck seems to change. Rump discovers he has a gift for spinning straw into gold. His best friend, Red Riding Hood, warns him that magic is dangerous, and she's right. With each thread he spins, he weaves himself deeper into a curse.

To break the spell, Rump must go on a perilous quest, fighting off pixies, trolls, poison apples, and a wickedly foolish queen. The odds are against him, but with courage and friendship—and a cheeky sense of humor—he just might triumph in the end.
A WORLD WITHOUT PRINCES

Book Series:

The School for Good and Evil, Book #2

Author:

Soman Chainani (Twitter)

Genre(s)

:

Middle Grade, Fantasy, Magic, Romance
In the epic sequel to the New York Times bestselling novel, The School for Good and Evil, Sophie and Agatha are home, living out their Ever After. But life isn't quite the fairy tale they expected.

When Agatha secretly wishes she'd chosen a different happy ending, she reopens the gates to the School for Good and Evil. But the world she and Sophie once knew has changed.

Witches and princesses, warlocks and princes are no longer enemies. New bonds are forming; old bonds are being shattered. But underneath this uneasy arrangement, a war is brewing and a dangerous enemy rises. As Agatha and Sophie battle to restore peace, an unexpected threat could destroy everything, and everyone, they love—and this time, it comes from within.