Top 5 Best Book Covers is monthly meme created by
The Ramblings of a Coffee Addicted Writer
. The rules are simple: on the first Saturday of every month, post your 5 favorite books covers that are being released in the current month!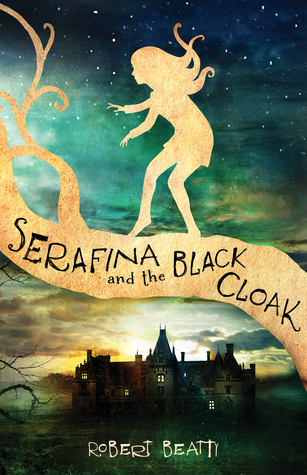 #1
SERAFINA AND THE BLACK CLOAK
Author:
Robert Beatty (Twitter)
Genre(s)
:
Middle Grade, Mystery, Historical Fiction
Release Date:
July 14, 2015
A spooky mystery-thriller about an unusual girl who lives secretly in the basement of the grand Biltmore Estate.
"Never go into the deep parts of the forest, for there are many dangers there and they will ensnare your soul."
Serafina has never had a reason to disobey her pa and venture beyond the grounds of Biltmore Estate. There's plenty to explore in the shadowed corridors of her vast home, but she must take care to never be seen. None of the rich folk upstairs know that Serafina exists; she and her pa, the estate's maintenance man, have secretly lived in the basement for as long as Serafina can remember.
But when children at the estate start disappearing, only Serafina knows who the culprit is: a terrifying man in a black cloak who stalks Biltmore's corridors at night. Following her own harrowing escape, Serafina risks everything by joining forces with Braeden Vanderbilt, the young nephew of Biltmore's owners. Braeden and Serafina must uncover the Man in the Black Cloak's true identity before all of the children vanish one by one.
Serafina's hunt leads her into the very forest that she has been taught to fear. There she discovers a forgotten legacy of magic that is bound to her own identity. In order to save the children of Biltmore, Serafina must seek the answers that will unlock the puzzle of her past.



#2

ARMADA

Author:

Ernest Cline (Twitter)

Genre(s)

:

YA, Science Fiction, Dystopian

Release Date

:

July 14, 2015 A cinematic, inventive, heartwarming, and completely nerdtastic adventure from the bestselling author of Ready Player One.

It's just another day of high school for Zack Lightman. He's daydreaming through another boring math class, with just one more month to go until graduation and freedom—if he can make it that long without getting suspended again.

Then he glances out his classroom window and spots the flying saucer.

At first, Zack thinks he's going crazy.

A minute later, he's sure of it. Because the UFO he's staring at is straight out of the videogame he plays every night, a hugely popular online flight simulator called Armada—in which gamers just happen to be protecting the earth from alien invaders.

But what Zack's seeing is all too real. And his skills—as well as those of millions of gamers across the world—are going to be needed to save the earth from what's about to befall it.

Yet even as he and his new comrades scramble to prepare for the alien onslaught, Zack can't help thinking of all the science-fiction books, TV shows, and movies he grew up reading and watching, and wonder: Doesn't something about this scenario seem a little too…familiar?
-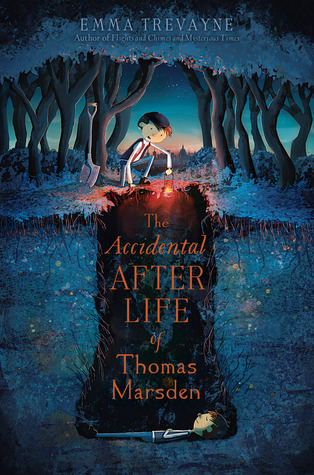 #3

THE ACCIDENTAL AFTERLIFE OF THOMAS MARSDEN

Author:

Emma Trevayne (Twitter)

Genre(s)

:

Middle Grade, Fantasy, Historical Fiction, Magic

Release Date:

July 28, 2015

Grave robbing is a messy business. A bad business.

And for Thomas Marsden, on what was an unremarkable spring night in London, it becomes a very spooky business. For lying in an unmarked grave and half covered with dirt is a boy the spitting image of Thomas himself.

This is only the first clue that something very strange is happening. Others follow, but it is a fortune teller's frightened screams that lead Thomas into a strange world of spiritualists, death and faery folk.

Faery folk with whom Thomas's life is bizarrely linked. Faery folk who need his help.

Desperate to unearth the truth about himself and where he comes from, Thomas is about to discover magic, and ritual, and that sometimes, just sometimes, the things that make a boy ordinary are what make him extraordinary.
-
#4

WINGS IN THE DARK

Author:

Michael Murphy (Twitter)

Genre(s)

:

Mystery, Historical Fiction

Release Date

:

July 14, 2015 Witty and stylish in the classic Dashiell Hammett tradition, Michael Murphy's latest high-flying Jake & Laura mystery features a Hawaiian honeymoon that's interrupted when their friend Amelia Earhart is accused of murder.

Hawaii, 1935. Mystery novelist Jake Donovan and actress Laura Wilson are in gorgeous sun-soaked Hawaii, but their best-laid plans for canoodling on the beach are interrupted by a summons from famed aviatrix Amelia Earhart. It seems a local businessman has been gunned down next to her plane. In just days, the famous pilot intends to fly from Honolulu to Los Angeles, making aviation history over the Pacific. But now, without Jake and Laura's help, Earhart's flight might never take off.

Trailing a killer, the newlyweds' sleuthing leads to a jealous pilot, a cigar-chomping female officer of the "Royalist Militia," and a notoriously disagreeable lieutenant colonel named Patton. With a sinister killer lurking in the shadows, it's safe to say the honeymoon is over . . . and the danger has just begun.
-
#5

WICKED EMBERS

Book Series:

Souls of Fire, Book #2

Author:

Keri Arthur (Twitter)

Genre(s):

Urban Fantasy, Paranormal Romance

Release Date:

July 7, 2015 Keri Arthur, New York Times bestselling author of Fireborn, presents the thrilling new Souls of Fire Novel featuring Emberly Pearson, a phoenix that can transform into a human—and is haunted by the ability to foresee death...

Crimson Death, the plague like virus spawned from a failed government experiment to isolate the enzymes that make vampires immortal, continues to spread. Emberly and her partner, Jackson Miller, are desperately seeking the stolen research for a cure before the virus becomes a pandemic.

But their mission is jeopardized by another threat uncovered in Emberly's prophetic dreams. A creature of ash and shadow has been unleashed on a murdering spree. Now Emberly must summon all her gifts and investigative knowledge to put an end to this entity's brutal rampage—even if it means placing herself in harm's way...