Each week we will post a characteristic and choose 5 of our favorite cover's with that characteristic.
#5

THE ESSPRESSOLOGIST

Author:

Kristina Springer (Twitter)

Genre:

YA, Contemporary Romance
What's your drink of choice? Is it a small pumpkin spice latte? Then you're lots of fun and a bit sassy. Or a medium americano? You prefer simplicity in life. Or perhaps it's a small decaf soy sugar-free hazelnut caffe latte? Some might call you a yuppie. Seventeen-year-old barista Jane Turner has this theory that you can tell a lot about a person by their regular coffee drink. She scribbles it all down in a notebook and calls it Espressology. So it's not a totally crazy idea when Jane starts hooking up some of her friends based on their coffee orders. Like her best friend, Em, a medium hot chocolate, and Cam, a toffee nut latte. But when her boss, Derek, gets wind of Jane's Espressology, he makes it an in-store holiday promotion, promising customers their perfect matches for the price of their favorite coffee. Things are going better than Derek could ever have hoped, so why is Jane so freaked out? Does it have anything to do with Em dating Cam? She's the one who set them up! She should be happy for them, right?
With overtones of Jane Austen's
Emma
and brimming with humor and heart, this sweet, frothy debut will be savored by readers.
-

#4

REMATCH

Book Series:

Lauren Holbrook, Book #2

Author:

Erynn Mangum

Genre:

Christian Fiction, Chick Lit
-
#3

AN ORDER OF COFFEE AND TEARS

Author:

Brian Spangler

Genre:

YA, Contemporary

Angela's Diner has the reputation of a safe haven where patrons find a moment of peace as they linger over coffee and tears. For one young runaway, Angela's is more than a place to tell your tale — it's a place where with the magic of chicken and waffles, and a little bit of trust, may just save your life.

Gabriella Santiago used to be a typical teenager who enjoyed the usual teenage things. That is until a single tragic day ended who she was and within hours she ran from home, never to look back.

Only when Gabby is cold, hungry and at her lowest, does she find Angela's Diner. Gabby embraces her new life and the family she has found in the midst of strangers and obscurity.

Acceptance is what she craves, but before long, Gabby realizes she's not the only one in the diner with something to hide. Her new family has a secret too, and some secrets refuse to stay buried.
-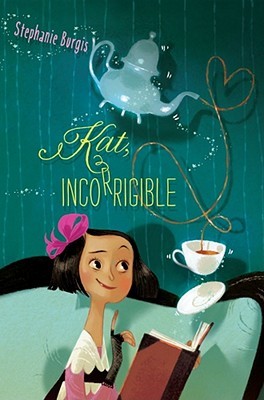 #2

KAT, INCORRIGIBLE

Book Series:

Kat, Incorrigible, Book #1

Author:

Stephanie Burgis (Twitter)

Genre:

Middle Grade, Fantasy

Katherine Ann Stephenson has just discovered that she's inherited her mother's magical talents, and despite Stepmama's stern objections, she's determined to learn how to use them.

But with her eldest sister Elissa's intended fiancé, the sinister Sir Neville, showing a dangerous interest in Kat's magical potential; her other sister, Angeline, wreaking romantic havoc with her own witchcraft; and a highwayman lurking in the forest, even Kat's reckless heroism will be tested to the upmost.

If she can learn to control her new powers, will Kat be able to rescue her family and win her sisters their true love?
ANIMATE ME

Author:

Ruth Clampett (Twitter)

Genre(s)

:

Contemporary Romance
She seemed far beyond his reach…could love draw them together?

For years shy animator Nathan has carried a torch for Brooke, the beautiful and dynamic Director of Development at their animation studio, even creating B-Girl, a comic-book heroine in her likeness. When a new project throws the two of them together, lovestruck Nathan finally seizes his moment – only to find Arnauld, head of the animation studio, claiming exclusive rights to Brooke's affections.

But Nathan, it turns out, is not giving up on his dreams so easily. With inspired determination, he sets out to be the super hero of wooing his girl. Threatened by his persistence, Arnauld plays dirty – only to spark an uprising at the studio that unleashes the sort of havoc only a building full of frustrated animators can create. While Nathan pulls out all the stops to win his B-girl, Brooke has to choose. Should she pursue the sparkling career that has taken her years to build…or follow her heart?