"Book Beginnings"
is a weekly event that shares the first sentence (or so) of the book you are reading, along with your initial thoughts about the sentence, impressions of the book, or anything else the opener inspires.
"The Friday 56"
is also a weekly event, sharing a sentence from page 56 or 56% in your eReader (If you have to improvise, that's ok.)
My Pick This Week:
The 100 (The Hundred #1) byKass Morgan
"The door slid open, and Clarke knew it was time to die.

Her eyes locked on the guard's boots, and she braced for the rush of fear, the flood of desperate panic. But as she rose up onto her elbow, peeling her shirt from the sweat-soaked cot, all she felt was relief.

"She'd been transferred to a single after attacking a guard, but for Clarke, there was no such thing as solitary. She heard voices everywhere. They called to her from the corners of her dark cell. They filled the silence between her heartbeats. They screamed from the deepest recesses of her mind. It wasn't death she craved, but if that was the only way to silence the voices, then she was prepared to die."
~ p. 1
"But I still don't understand." Luke shot a glance over his shoulder at Camille, who had given up pretending that she wasn't paying attention. "Why were you Confined in the first place?"

Glass looked away, unable to meet his eyes as her brain raced for an explanation. She couldn't tell him, not now, not when he'd moved on. Not when it was so obvious he didn't feel the same way for her.

"I can't talk about it," she said quietly. "You wouldn't underst—"

"It's fine." Luke cut her off sharply. "You've made it clear that there are lots of things I can't understand."

For the briefest of moments, Glass wished she'd stayed on the dropship with Clarke and Wells. Although she was standing next to the boy she loved, she couldn't imagine feeling any lonelier on the abandoned Earth than she did right now."
~ p. 56
My Thoughts:
I longed for the day when the shows on The CW would resemble it's for superior predecessor, The WB, that I loved as a wee lass. Meaning the shows wasn't just filled with young eye candy, but great writing and acting... and I think the struck gold with
The 100
. The show has a great hook, is well acted and is suspenseful, dramatic, scary and awesome in all the right places.
When I learned it was based on a book series, well, checking it out the source material was a no brainer. And it's
good
. Definitely going to be a quick read, but I'm loving it. Glad to see the TV show didn't stray to much from the book's premise; I hate that.
Book Synopsis: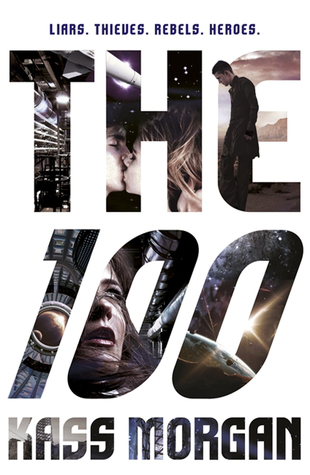 Genres: YA, Dystopian, Science Fiction

Release Date

:

September 3, 2013
In the future, humans live in city-like spaceships orbiting far above Earth's toxic atmosphere. No one knows when, or even if, the long-abandoned planet will be habitable again. But faced with dwindling resources and a growing populace, government leaders know they must reclaim their homeland... before it's too late.

Now, one hundred juvenile delinquents are being sent on a high-stakes mission to recolonize Earth. After a brutal crash landing, the teens arrive on a savagely beautiful planet they've only seen from space. Confronting the dangers of this rugged new world, they struggle to form a tentative community. But they're haunted by their past and uncertain about the future. To survive, they must learn to trust - and even love - again.