Each week we will post a characteristic and choose 5 of our favorite cover's with that characteristic.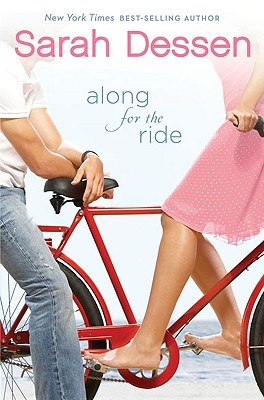 #5

ALONG FOR THE RIDE

Author:

Sarah Dessen (Twitter)

Genre:

YA, Contemporary, Romance

It's been so long since Auden slept at night. Ever since her parents' divorce—or since the fighting started. Now she has the chance to spend a carefree summer with her dad and his new family in the charming beach town where they live.
A job in a clothes boutique introduces Auden to the world of girls: their talk, their friendship, their crushes. She missed out on all that, too busy being the perfect daughter to her demanding mother. Then she meets Eli, an intriguing loner and a fellow insomniac who becomes her guide to the nocturnal world of the town. Together they embark on parallel quests: for Auden, to experience the carefree teenage life she's been denied; for Eli, to come to terms with the guilt he feels for the death of a friend.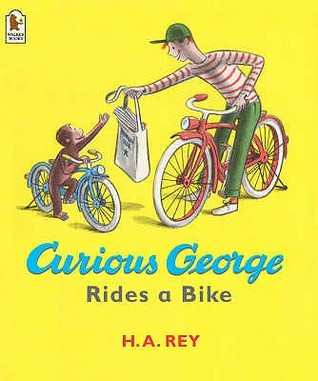 -

#4

CURIOUS GEORGE RIDES A BIKE

Book Series:

Curious George Original Adventures, Book #3

Author:

H.A. Rey

Genre:

Children's Books, Picture Books, Fiction

Today is a special day for George because he gets his first bike. He does tricks, he helps the paper boy with his round and then he sees a river... and George is curious. And that's when his exciting adventure begins.
-
#3

HIGH HEELS & BICYCLE WHEELS

Author:

Jane Linfoot (Twitter)

Genre:

Chick Lit, Romance
Meet Bryony: she's a fun-loving, very single TV production assistant whose idea of sport is the Jimmy Choo sales scrum.
Meet Jackson: Cycling's bad boy superstar. Injured and out of a certain race this summer, without his training, he's looking for another distraction…
Bryony's facing a triple whammy – her last single friend just named the day, her mother's offering to have her eggs frozen, and the guy she's loved from afar, forever, has just got hitched. So she's more than happy to accept the offer of a totally out of character but seriously steamy one night of no-strings fun. Especially when the guy in question is so attractive he even looks good in Lycra!
Jackson's on the lookout for a new career but if the opportunity to work on TV means a fortnight with the most uptight woman in the world, he'd rather not bother. He never goes in for seconds – and who in their right mind would head off in a campervan, with a woman who irons her knickers?
Add in a tandem (yes a tandem) and fast forward to double trouble for a summer neither of them will ever forget!
-
#2

HERO ON A BICYCLE

Author:

Shirley Hughes

Genre:

Middle Grade, Historical Fiction, World War II In her first novel, beloved author Shirley Hughes presents a World War II adventure proving that in extraordinary circumstances, people are capable of extraordinary things.


Italy, 1944: Florence is occupied by Nazi forces. The Italian resistance movement has not given up hope, though — and neither have thirteen-year- old Paolo and his sister, Costanza. As their mother is pressured into harboring escaping POWs, Paolo and Costanza each find a part to play in opposing the German forces. Both are desperate to fight the occupation, but what can two siblings — with only a bicycle to help them — do against a whole army? Middle-grade fans of history and adventure will be riveted by the action and the vividly evoked tension of World War II.



FAKING IT
Book Series:
It Girls, Book #1
Author:
Leah Marie Brown (Twitter)
Genre(s)
:
Chick Lit, Humor,
Contemporary Romance
Haven't you ever told a little lie in the name of love?

Vivia Grant couldn't be happier. She has her dream job and is about to marry her dream man. Does it really matter that she's led him to believe she's a virgin? After all, being in love makes every experience feel like the first time anyway! But an unexpected encounter with an ex-lover is about to expose her embarrassing lie…

When Vivia's fiancé discovers the truth, he ends their engagement—via text—and uses his connections to get her fired. Unemployed and heartbroken, Vivia begins planning her new future—as a homeless spinster. But her best friend has a better idea. They'll skip the Ben & Jerry's binge and go on Vivia's honeymoon instead. Two weeks cycling through Provence and Tuscany, with Luc de Caumont, a sexy French bike guide. Too bad Vivia's not a big fan of biking. And she's abysmal at languages. Will she fib her way through the adventure, or finally learn to love herself—and Luc—flaws and all?