Each week we will post a characteristic and choose 5 of our favorite cover's with that characteristic.
#5

DOUG UNPLUGGED

Author:

Dan Yaccarino

Genre:

Children's Books, Picture Books, Robots
Doug is a robot. His parents want him to be smart, so each morning they plug him in and start the information download. After a morning spent learning facts about the city, Doug suspects he could learn even more about the city by going outside and exploring it. And so Doug . . . unplugs. What follows is an exciting day of adventure and discovery. Doug learns amazing things by doing and seeing and touching and listening—and above all, by interacting with a new friend.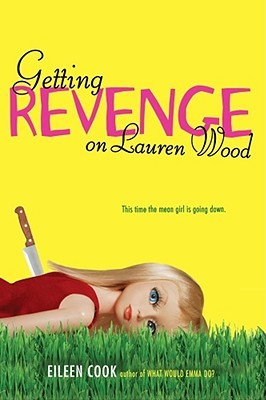 -

#4

GETTING REVENGE ON LAUREN WOOD

Author:

Eileen Cook (Twitter)

Genre:

YA, Contemporary, Chick Lit
Popularity is the best revenge.


In the final weeks of eighth grade, Lauren Wood made a choice. She betrayed her best friend, Helen, in a manner so publicly humiliating that Helen had to move to a new town just to save face. Ditching Helen was worth it, though, because Lauren started high school as one of the It Girls--and now, at the start of her senior year, she's the cheerleading captain, the quarterback's girlfriend, and the undisputed queen bee. Lauren has everything she's ever wanted, and she has forgotten all about her ex-best friend.

But Helen could never forget Lauren. After three years of obsessing, she's moving back to her old town. She has a new name and a new look, but she hasn't dropped her old grudges. She has a detailed plan to bring down her former BFF by taking away everything that's ever been important to Lauren—starting with her boyfriend.

Watch out, Lauren Wood. Things are about to get bitchy.
-
#3

THE RUNAWAY DOLLS

Book Series:

Doll People, Book #3

Author:

Ann M. Martin (Twitter) & Laura Godwin (Twitter)

Genre:

Middle Grade, Children's Books, Fiction

Best friends Annabelle Doll and Tiffany Funcraft are back, and this time they've got an unexpected visitor, a new doll named Tilly May. She's arrived in a mysterious package from London, but her face looks so familiar... . Could she be Annabelle's long lost baby sister? Annabelle is convinced it absolutely must be so-but her parents refuse to believe her. With time running out before the package is at risk of being sent back to England, Annabelle and Tiffany resort to the only course of action they can think of-running away. But life on the road is fraught with its own pitfalls, from a foreboding wooded park to a close call in a department store. How will Annabelle and Tiffany find their way back home and what's going to happen to Tilly May if and when they do?
-
#2

DOLL BONES

Author:

Holly Black (Twitter)

Genre:

Middle Grade, Horror, Mystery

Zach, Poppy and Alice have been friends for ever. They love playing with their action figure toys, imagining a magical world of adventure and heroism. But disaster strikes when, without warning, Zach's father throws out all his toys, declaring he's too old for them. Zach is furious, confused and embarrassed, deciding that the only way to cope is to stop playing . . . and stop being friends with Poppy and Alice. But one night the girls pay Zach a visit, and tell him about a series of mysterious occurrences. Poppy swears that she is now being haunted by a china doll – who claims that it is made from the ground-up bones of a murdered girl. They must return the doll to where the girl lived, and bury it. Otherwise the three children will be cursed for eternity . . .
THE GIRL IN THE CASTLE INSIDE THE MUSEUM

Author:

Kate Bernheimer

Genre(s)

:

Children's Books, Picture Book, Fantasy

Once there was a girl who lived in a castle. The castle was inside a museum. When children visited, they'd press against the glass globe in which the castle sat, to glimpse the tiny girl. But when they went home, the girl was lonely. Then one day, she had an idea! What if you hung a picture of yourself inside the castle inside the museum, inside this book? Then you'd able to keep the girl company. Reminiscent of "The Lady of Shalot," here is an original fairy tale that feels like a dream—haunting, beautiful, and completely unforgettable.