Each week we will post a characteristic and choose 5 of our favorite cover's with that characteristic.
#5

SKELETON KEY GUILD

Book Series:

The Doorknob Society, Book #5

Author:

M.J. Fletcher (Twitter)

Genre:

YA, Fantasy
Her parents dead, her sister missing, and those she loves branded traitors to the Old Kind... Chloe Masters is on the run.
To fulfill a parent's dying wish she will do anything to save the sister she has never met. Can she learn the secrets of the Artifacts before it's too late? Surrounded by her friends; Slade, Edgar, Jess, Val and the man she loves James Nightshade, Chloe has never had so much to live for... but will her enemies let her?
-

#4

INCARCERON

Book Series:

Incarceron, Book #1

Author:

Catherine Fisher (Facebook)

Genre:

YA, Fantasy, Dystopian, Steampunk Incarceron

is a prison so vast that it contains not only cells, but also metal forests, dilapidated cities, and vast wilderness. Finn, a seventeen-year-old prisoner, has no memory of his childhood and is sure that he came from Outside Incarceron. Very few prisoners believe that there is an Outside, however, which makes escape seems impossible.

And then Finn finds a crystal key that allows him to communicate with a girl named Claudia. She claims to live Outside- she is the daughter of the Warden of Incarceron, and doomed to an arranged marriage. Finn is determined to escape the prison, and Claudia believes she can help him. But they don't realize that there is more to Incarceron than meets the eye. Escape will take their greatest courage and cost more than they know.
-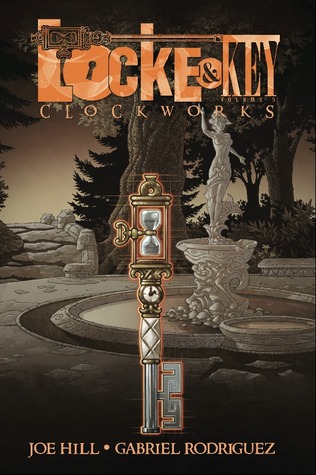 #3

LOCKE & KEY, VOL. 5: CLOCKWORKS

Book Series:

Locke & Key, Book #5

Author:

Joe Hill (Twitter)

Genre:

Graphic Novels, Comics, Horror, Fantasy

Colonel Adam Crais's minutemen are literally trapped between a rock and a hard place; in the first days of the Revolutionary War, they find themselves hiding beneath 120 feet of New England stone, with a full regiment of redcoats waiting for them in the daylight... and a door into hell in the cavern below. The black door is open, and it's up to a 16-year-old smith named Ben Locke to find a way to close it. The biggest mysteries of the Locke & Key series are resolved as Clockworks opens, not with a bang, but with the thunderous crash of English cannons.
-
#2

LOCK & KEY

Author:

Sarah Dessen (Twitter)

Genre:

YA, Romance, Contemporary, Chick Lit

"Ruby, where is your mother?" Ruby knows that the game is up. For the past few months, she's been on her own in the yellow house, managing somehow, knowing that her mother will probably never return. That's how she comes to live with Cora, the sister she hasn't seen in ten years, and Cora's husband Jamie, whose down-to-earth demeanor makes it hard for Ruby to believe he founded the most popular networking Web site around. A luxurious house, fancy private school, a new wardrobe, the promise of college and a future—it's a dream come true. So why is Ruby such a reluctant Cinderella, wary and defensive? And why is Nate, the genial boy next door with some secrets of his own, unable to accept the help that Ruby is just learning to give?
HIS TO KEEP

Author:

Lydia Goodfellow (Twitter)

Genre(s)

:

YA, Romance, Dark Fiction

Ava is ripped from her life by a sadistic priest on her way home from school. He leads a very sinister and secret life. She is forced to live in a room with his son, trapped in a house of hell. Day by day her innocence is torn apart, but despite witnessing horrific events, she finds herself caring for the boy with dark secrets. To survive, Ava must choose between her freedom and love. What will she choose?