Each week we will post a characteristic and choose 5 of our favorite cover's with that characteristic.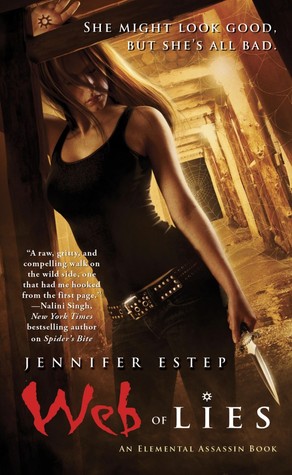 #5

WEB OF LIES

Book Series:

Elemental Assassin, Book #2

Author:

Jennifer Estep (Twitter)

Genre:

Urban Fantasy, Paranormal, Magic, Assassins
Curiosity is definitely going to get me dead one of these days. Probably real soon.

I'm Gin Blanco.
You might know me as the Spider, the most feared assassin in the South. I'm retired now, but trouble still has a way of finding me. Like the other day when two punks tried to rob my popular barbecue joint, the Pork Pit. Then there was the barrage of gunfire on the restaurant. Only, for once, those kill shots weren't aimed at me. They were meant for Violet Fox. Ever since I agreed to help Violet and her grandfather protect their property from an evil coalmining tycoon, I'm beginning to wonder if I'm really retired. So is Detective Donovan Caine. The only honest cop in Ashland is having a real hard time reconciling his attraction to me with his Boy Scout mentality. And I can barely keep my hands off his sexy body. What can I say? I'm a Stone elemental with a little Ice magic thrown in, but my heart isn't made of solid rock. Luckily, Gin Blanco always gets her man . . . dead or alive.
-

#4

MANNERS & MUTINY

Book Series:

Finishing School, Book #4

Author:

Gail Carriger (Twitter)

Genre:

YA, Steampunk, Paranormal, Fantasy

When a dastardly Pickleman plot comes to fruition, only Sophronia can save her friends, her school, and all of London...but at what cost? Our proper young heroine puts her training and skills to the test in this highly anticipated conclusion of the rousing, intriguing, and always polished

New York Times

bestselling Finishing School series!
-
#3

BURN

Book Series:

Pure, Book #3

Author:

Julianna Baggott (Twitter)

Genre:

YA, Dystopian, Science Fiction

Inside the Dome, Patridge has taken his father's place as leader of the Pures. His struggle has led him here, intent upon bringing down the Dome from the inside, with the help of a secret resistance force. But things are not as simple from his new position of power and he finds himself tempted by his father's words: perhaps if the world is to survive it needs the Dome - and Partridge - to rule it...

As Partridge's resolve weakens, Pressia and Bradwell continue piecing together the clues left to them from the time before the Detonations. It is their hope that they will be able to heal the Wretches, and free them from their monstrous fusings and the Dome's oppression once and for all. But everything depends, too, on Partridge. Separated by distance and history, can they still trust their friend and ally? Or is the world doomed to an eternity of war and hardship?
-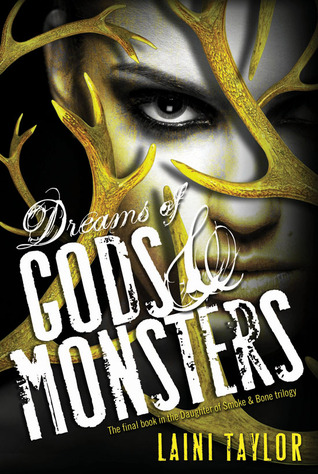 #2
DREAM OF GODS & MONSTERS
Book Series:
Daughter of Smoke & Bone, Book #3
Author:
Laini Taylor
Genre:
YA, Fantasy, Paranormal
By way of a staggering deception, Karou has taken control of the chimaera rebellion and is intent on steering its course away from dead-end vengeance. The future rests on her, if there can even be a future for the chimaera in war-ravaged Eretz.
Common enemy, common cause.
When Jael's brutal seraph army trespasses into the human world, the unthinkable becomes essential, and Karou and Akiva must ally their enemy armies against the threat. It is a twisted version of their long-ago dream, and they begin to hope that it might forge a way forward for their people.
And, perhaps, for themselves. Toward a new way of living, and maybe even love.
But there are bigger threats than Jael in the offing. A vicious queen is hunting Akiva, and, in the skies of Eretz ... something is happening. Massive stains are spreading like bruises from horizon to horizon; the great winged stormhunters are gathering as if summoned, ceaselessly circling, and a deep sense of wrong pervades the world.
What power can bruise the sky?
From the streets of Rome to the caves of the Kirin and beyond, humans, chimaera and seraphim will fight, strive, love, and die in an epic theater that transcends good and evil, right and wrong, friend and enemy.
At the very barriers of space and time, what do gods and monsters dream of? And does anything else matter?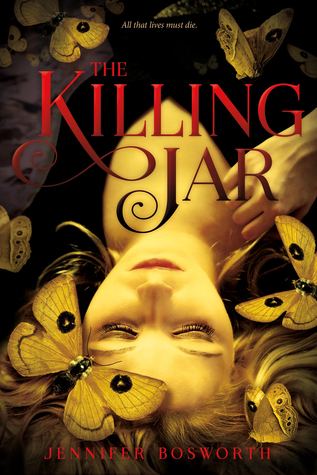 THE KILLING JAR

Author:

Jennifer Bosworth (Twitter)

Genre(s)

:

YA, Science Fiction, Horror, Dystopian

"I try not to think about it, what I did to that boy."

She's haunted by a violent tragedy she can't explain. Kenna's past has kept people—even her own mother—at a distance for years. Just when she finds a friend who loves her and life begins to improve, she's plunged into a new nightmare. Her mom and twin sister are attacked, and the dark powers Kenna has struggled to suppress awaken with a vengeance.

On the heels of the assault, Kenna is exiled to a nearby commune, know as Eclipse, to live with a relative she never knew she had. There, she discovers an extraordinary new way of life as she learns who she really is, and the wonders she's capable of. For the first time, she starts to feel like she belongs somewhere. That her terrible secret makes her beautiful and strong, not dangerous. But the longer she stays at Eclipse, the more she senses there is something malign lurking underneath it all. And she begins to suspect that her new family has sinister plans for her…