Each week we will post a characteristic and choose 5 of our favorite cover's with that characteristic.
#5

SEVEN SONGS

Book Series:

Merlin, Book #2

Author:

T.A. Barron (Twitter)

Genre:

YA, Fantasy, Arthurian Mythology, Magic
Young Merlin, triumphant after his first encounter with the dreaded Rhita Gawr, has brought new hope to Fincayra, the enchanted isle that lies between earth and sky. Yet when a renewed tide of evil arises, its first victim is Merlin's own mother. To save her, Merlin and the forest girl Rhia must follow the perilous path of Seven Songs of Wizardry that has claimed even the lives of great wizards. Most difficult of all, Merlin must discover the secret of seeing not with his eyes, but with his heart.The eagerly anticipated second book in The Lost Years of Merlin epic combines all the passion, power, and spiritual depth that are T.A. Barron's hallmarks. It adds a thrilling new dimension to the legend of Merlin, even as it offers lasting inspiration to us all.
-

#4

WHERE THE STARS STILL SHINE

Author:

Trish Doller (Twitter)

Genre:

YA, Contemporary, Realistic Fiction
Stolen as a child from her large and loving family, and on the run with her mom for more than ten years, Callie has only the barest idea of what normal life might be like. She's never had a home, never gone to school, and has gotten most of her meals from laundromat vending machines. Her dreams are haunted by memories she'd like to forget completely. But when Callie's mom is finally arrested for kidnapping her, and Callie's real dad whisks her back to what would have been her life, in a small town in Florida, Callie must find a way to leave the past behind. She must learn to be part of a family. And she must believe that love--even with someone who seems an improbable choice--is more than just a possibility.


-
#3
GATED
Book Series:
Gated, Book #1
Author:
Amy Christine Parker (Twitter)
Genre:
YA, Contemporary, Dystopian, Science Fiction
Appearances can be deceiving.
In the Community, life seems perfect. After the 9/11 terrorist attacks, Pioneer invited Lyla's family to join his group and escape the evil in the world. They were happy to be chosen, happy to move away from New York and start over in such an idyllic gated community. Now seventeen, Lyla knows that Pioneer is more than just their charismatic leader, he is their prophet . . . but his visions have grown dark.
Lyla is a loyal member of the Community, but a chance encounter with an outsider boy has her questioning Pioneer, the Community—everything. And if there's one thing not allowed in the Community, it's doubt. Her family and friends are certain in their belief. Lyla wishes she could feel the same. As Pioneer begins to manipulate his flock toward disaster, the question remains: Will Lyla follow them over the edge?
From the outside looking in, it's hard to understand why anyone would join a cult. But Gated tells the story of the Community from the inside looking out, and from behind the gates things are not quite so simple.
-
#2

DRAGON DAWN

Book Series:

Dinosaurian Time Travel, Book #1

Author:

Deborah O'Neill Cordes

Genre:

Science Fiction, Time Travel

Time snakes between alternate universes. Ever watchful, an alien intelligence survives on Mars, waiting to be found by spacefarers from Earth. The alien's ultimate goal is to send human astronauts back in time, where they will alter the past and thwart the extinction of the dinosaurs. A race of intelligent dinosaurs, resembling the alien's extinct species, subsequently evolves to rule the world. But a human female astronaut, through a strange twist of fate, survives the change in the space-time continuum. After finding herself in a dinosaurian body, she must race against time – and the formidable alien – to restore the universe to its rightful course. Book One of the Dinosaurian Time Travel Series.

Dragon Dawn takes the intriguing plot device of time travel and uses cutting edge science to produce a new spin on the evolution of intelligence. The subject matter blends fields of study the author, Deborah O'Neill Cordes, loves in equal measure; she holds a bachelor's degree in zoology and a master's degree in history. She offers her readers a window into exotic worlds: lushly beautiful, often terrifying – and wholly compelling.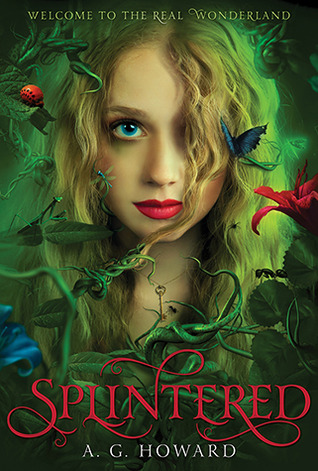 SPLINTERED

Book Series:

Throne of Glass, Book #1

Author:

A.G. Howard (Twitter)

Genre(s)

:

YA, Fantasy, Fairytale Retold
Alyssa Gardner hears the whispers of bugs and flowers—precisely the affliction that landed her mother in a mental hospital years before. This family curse stretches back to her ancestor Alice Liddell, the real-life inspiration for Lewis Carroll's Alice's Adventures in Wonderland. Alyssa might be crazy, but she manages to keep it together. For now.

When her mother's mental health takes a turn for the worse, Alyssa learns that what she thought was fiction is based in terrifying reality. The real Wonderland is a place far darker and more twisted than Lewis Carroll ever let on. There, Alyssa must pass a series of tests, including draining an ocean of Alice's tears, waking the slumbering tea party, and subduing a vicious bandersnatch, to fix Alice's mistakes and save her family. She must also decide whom to trust: Jeb, her gorgeous best friend and secret crush, or the sexy but suspicious Morpheus, her guide through Wonderland, who may have dark motives of his own.