Each week we will post a characteristic and choose 5 of our favorite cover's with that characteristic.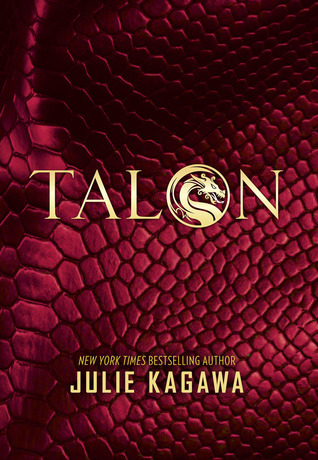 #5

TALON

Book Series:

Talon, Book #1

Author:

Julie Kagawa (Twitter)

Genre:

YA, Fantasy, Paranormal, Dragons
Long ago, dragons were hunted to near extinction by the Order of St. George, a legendary society of dragon slayers. Hiding in human form and growing their numbers in secret, the dragons of Talon have become strong and cunning, and they're positioned to take over the world with humans none the wiser.
Ember and Dante Hill are the only sister and brother known to dragonkind. Trained to infiltrate society, Ember wants to live the teen experience and enjoy a summer of freedom before taking her destined place in Talon. But destiny is a matter of perspective, and a rogue dragon will soon challenge everything Ember has been taught. As Ember struggles to accept her future, she and her brother are hunted by the Order of St. George.
Soldier Garret Xavier Sebastian has a mission to seek and destroy all dragons, and Talon's newest recruits in particular. But he cannot kill unless he is certain he has found his prey: and nothing is certain about Ember Hill. Faced with Ember's bravery, confidence and all-too-human desires, Garret begins to question everything that the Order has ingrained in him: and what he might be willing to give up to find the truth about dragons.
-

#4

TANGLED THREADS

Book Series:

Elemental Assassin, Book #4

Author:

Jennifer Estep (Twitter)

Genre:

Urban Fantasy, Paranormal, Magic, Assassins

I'd rather face a dozen lethal assassins any night than deal with something as tricky, convoluted, and fragile as my feelings.

But here I am. Gin Blanco, the semi-retired assassin known as the Spider. Hovering outside sexy businessman Owen Grayson's front door like a nervous teenage girl. One thing I like about Owen: he doesn't shy away from my past—or my present. And right now I have a bull's-eye on my forehead.

Cold-blooded Fire elemental Mab Monroe has hired one of the smartest assassins in the business to trap me. Elektra LaFleur is skilled and efficient, with deadly electrical elemental magic as potent as my own Ice and Stone powers. Which means there's a fifty-fifty chance one of us won't survive this battle. I intend to kill LaFleur—or die trying—because Mab wants the assassin to take out my baby sister, Detective Bria Coolidge, too.

The only problem is, Bria has no idea I'm her long-lost sibling . . . or that I'm the murderer she's been chasing through Ashland for weeks. And what Bria doesn't know just might get us both dead. . .
-
#3

TERROR NEVER SLEEPS

Book Series:

Jack Gunn, Book #2

Author:

Richard Blomberg (Twitter)

Genre:

Thriller, Suspense, Fiction

Navy SEAL Jack Gunn's life is turned upside down when terrorists kidnap his family and disappear without a trace. While Jack and his team search frantically for clues in Virginia, half-way around the world, his wife, Nina struggles to survive the terrorist's daily persecutions.

Terror Never Sleeps is a sizzling tale of Nina's transformation into a warrior who is fighting for her life, and Jack's relentless pursuit of the terrorists from Timbuktu to Diego Garcia to Pakistan. A military coup, propaganda, dirty bombs, and the launch of Pakistan's nuclear arsenal with one target—Israel—is all part of the terrorist's master plan, who are hellbent on blowing the world back to the eighth century. The non-stop action keeps the reader constantly off balance with the bizarre and unexpected.
-
#2

THIRD GRAVE DEAD AHEAD

Book Series:

Charley Davidson, Book #3

Author:

Darynda Jones (Twitter)

Genre:

Urban Fantasy, Paranormal, Supernatural, Grim Reaper, Ghosts, Demons

Paranormal private eye. Grim reaper extraordinaire. Whatever. Charley Davidson is back! And she's drinking copious amounts of caffeine to stay awake because, every time she closes her eyes, she sees him: Reyes Farrow, the part-human, part-supermodel son of Satan. Yes, she did imprison him for all eternity, but come on. How is she supposed to solve a missing persons case, deal with an ego-driven doctor, calm her curmudgeonly dad, and take on a motorcycle gang hell-bent on murder when the devil's son just won't give up on his plan of seduction . . . and revenge?
SUCCUBUS ON TOP

Book Series:

Georgina Kincaid, Book #2

Author:

Richelle Mead (Twitter)

Genre(s)

:

Adult, Urban Fantasy, Paranormal
Love hurts, and no one knows it better than Georgina Kincaid. If she so much as kisses Seth Mortensen, the shy, sexy, incredibly gifted Seattle writer she's been dating, she'll drain his life force. Georgina is a succubus - a demon who draws her power from other men's pleasure.

Admittedly, the shapeshifting and immortality perks are terrific, and yes, Georgina did choose to join the ranks of hell centuries ago. But it seems completely unfair that a she-demon whose purpose is seduction can't get hot and heavy with the one mortal who knows and accepts her for who she is...It's not just her personal life that's in chaos.

Doug, Georgina's co-worker at a local bookstore, has been exhibiting bizarre behaviour, and Georgina suspects that something far more demonic than double espressos is at work. She could use help finding out, but Bastien, an irresistibly charming incubus and her best immortal friend, is preoccupied with corrupting an ultra-conservative talk radio star - and giving Georgina some highly distracting come-hither vibes. Georgina is going to have to work solo on this one - and fast because soon, Doug's life won't be the only one on the line...