Top 5 Best Book Covers is monthly meme created by
The Ramblings of a Coffee Addicted Writer
. The rules are simple: on the first Saturday of every month, post your 5 favorite books covers that are being released in the current month!
#1

RICOCHET

Author:

Keri Lake (Twitter)

Genre(s)

:

Adult, Contemporary Romance, Romantic Suspense

Release Date:

May

2015 The only sure way to destroy a man is to take what he cannot live without.

Three years ago, I had everything.

A beautiful wife.

A son.

A reason for living.

Until a ruthless task force, assembled under Mayor Michael Culling, with a brutal strategy to make the streets of Detroit 'safe', ripped away everything I loved in a deadly hunt called The Culling.

They tried to kill me, too. I wish they had. Now I'm cursed by the memories of that night, and the words I whispered to my dying wife.

A promise—to avenge the wrong and set it right.

I'm no longer Nick Ryder. I'm a masked vigilante. Faceless. Loveless. Fearless. A man with nothing left to lose—one who's seen the dark and violent truth behind the city's flawless veneer.

Michael Culling doesn't know who I am. Or what I want. All he knows is that I've kidnapped his beautiful wife.

An eye for an eye—isn't that how the saying goes? And Aubree Culling is the perfect pawn to destroy him.

If she doesn't destroy me first.
#2
THE SECRETS WE KEEP
Author:
Lucy Coats
(Twitter)
Genre(s)
:
YA, Historical Fiction, Retellings
Release Date
:
May 7, 2015
Her precious mother is dead - and it isn't an accident! The young Cleopatra - Pharaoh's illegitimate daughter - must flee the royal palace at Alexandria or die too. As her evil half-sisters usurp the throne, Cleo finds sanctuary at the sacred temple of Isis, where years later she becomes initiated into the secret Sisters of the Living Knot. But now Isis's power is failing, Egypt is in danger, and Cleo must prove her loyalty to her goddess by returning to the Alexandria she hates. She must seek out the hidden map which is the key to returning Isis's power - on pain of death. But will she be able to evade her horrible sisters? And will she find dreamy Khai, the über-hot Librarian boy she met as she fled Alexandria years before? Cleo's powerful destiny is about to unfold...
-
#3

BOMB

Author:

Sarah Mussi (Twitter)

Genre(s)

:

YA, Mystery, Thriller

Release Date:

May 12, 2015

When Genesis goes on an internet date she is only anxious that this latest guy won't be 'The One'. She's not at all worried about meeting a dodgy bloke or getting in too deep. And when her date appears she texts her best mate, Jackson, to let him know that she thinks this time, he just might be 'The One'. And he texts her back with a huge: I LIKE.

It's the one all right. But not in the way she expects.

For when Genesis wakes up the next day, she can't remember a thing. She can't remember where she is, or how she got there. And she can hardly move because she is strapped into some kind of body armour ... and then a voice sounds in her head: 'Get on to the 37 going north. You are strapped to a vest made entirely of explosives. At the push of one button I can detonate you right where you stand.'
To her horror, Genesis has become an agent of mass destruction. The countdown to detonation begins now...
-
#4

NIL UNLOCKED

Book Series:

Nil, Book #2

Author:

Lynne Matson (Twitter)

Genre(s)

:

YA, Science Fiction, Dystopian

Release Date

:

May 12, 2015

On the island of Nil, the rules are set. You have exactly 365 days to escape—or you die. Rives is now the undisputed Leader of Nil City, but keeping the City united is tougher than ever.

Raiders have grown bolder, supplies are dwindling, and non-human inhabitants have taken a turn toward the deadly. New arrivals cause rifts within the City, putting the Search system at risk, and calling everything Rives knows into question. Desperate for answers, he teams up with the only other person searching for them: Skye, a new arrival with a mysterious past of her own. Soon the duo find themselves locked in a desperate race to save all the residents of Nil—and possibly destroy the island forever. But at what cost? And who will pay the price?
-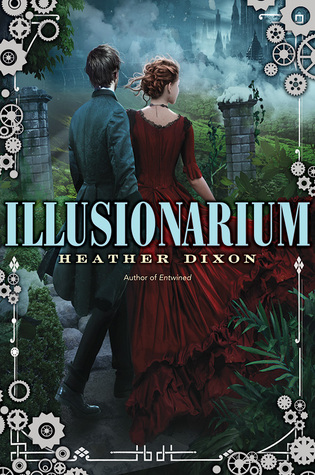 #5

ILLUSIONARIUM

Author:

Heather Dixon

Genre(s):

YA, Steampunk, Science Fiction, Fantasy

Release Date:

May 19, 2015




What if the world holds more dangers—and more wonders—than we have ever known? And what if there is more than one world? From Heather Dixon, author of the acclaimed Entwined, comes a brilliantly conceived adventure that sweeps us from the inner workings of our souls to the far reaches of our imaginations.

Jonathan is perfectly ordinary. But then—as every good adventure begins—the king swoops into port, and Jonathan and his father are enlisted to find the cure to a deadly plague. Jonathan discovers that he's a prodigy at working with a new chemical called fantillium, which creates shared hallucinations—or illusions. And just like that, Jonathan is knocked off his path. Through richly developed parallel worlds, vivid action, a healthy dose of humor, and gorgeous writing, Heather Dixon spins a story that calls to mind The Night Circus and Pixar movies, but is wholly its own.