Top 5 Best Book Covers is monthly meme created by
The Ramblings of a Coffee Addicted Writer
. The rules are simple: on the first Saturday of every month, post your 5 favorite books covers that are being released in the current month!
#1

EMPIRE OF NIGHT

Book Series:

Age of Legends, Book #2

Author:

Kelley Armstrong (Twitter)

Genre(s)

:

YA, High Fantasy, Magic, Paranormal

Release Date:

April 7, 2015

Sisters Moria and Ashyn are the Keeper and Seeker of Edgewood. Or at least, they were.

Their village is gone. Their friends have betrayed them. And now, they are all but prisoners in court, forced to watch and wait while the Emperor decides whether to help the children of Edgewood, who remain hostages of the treacherous Alvar Kitsune.

But when the emperor finally sends the girls on a mission to rescue the children--accompanied by Prince Tyrus and a small band of men--the journey proves more perilous than any of them could have imagined. With lies and unrest mounting in the empire, Moria and Ashyn will have to draw on every bit of influence and power they possess to unite their people and avert an all-out war.
#2
THE SECRETS WE KEEP
Author:
Trisha Leaver
(Twitter)
Genre(s)
:
YA, Contemporary, Mystery, Fiction
Release Date
:
April 28, 2015
A girl takes over her twin sister's identity in this emotionally charged page-turner about the complicated bond between sisters.
Ella and Maddy Lawton are identical twins. Ella has spent her high school years living in popular Maddy's shadows, but she has never been envious of Maddy. In fact, she's chosen the quiet, safe confines of her sketchbook over the constant battle for attention that has defined Maddy's world.
When—after a heated argument—Maddy and Ella get into a tragic accident that leaves her sister dead, Ella wakes up in the hospital surrounded by loved ones who believe she is Maddy. Feeling responsible for Maddy's death and everyone's grief, Ella makes a split-second decision to pretend to be Maddy. Soon, Ella realizes that Maddy's life was full of secrets. Caught in a web of lies, Ella is faced with two options—confess her deception or live her sister's life.
-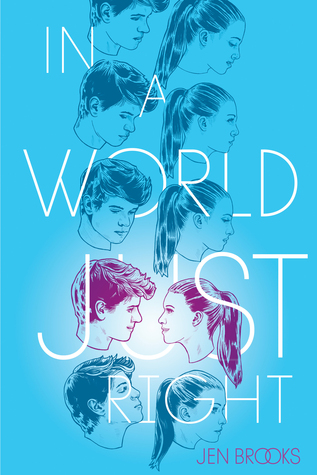 #3

IN A WORLD JUST RIGHT

Author:

Jen Brooks (Twitter)

Genre(s)

:

YA, Contemporary Romance, Fantasy

Release Date:

April 28, 2015

Imagination takes on new meaning for a uniquely talented teen in this debut novel that is a breathtaking blend of contemporary, fantasy, and romance.

Sometimes Jonathan Aubrey wishes he could just disappear. And as luck—or fate—would have it, he can. Ever since coming out of a coma as a kid, he has been able to create alternate worlds. Worlds where he is a superhero, or a ladies' man, or simply a better version of himself. That's the world he's been escaping to most since sophomore year, a world where he has everything he doesn't have in real life: friends, a place of honor on the track team, passing grades, and most importantly, Kylie Simms as his girlfriend.

But when Jonathan confuses his worlds senior year and tries to kiss the real Kylie Simms, everything unravels. The real Kylie actually notices Jonathan…and begins obsessing over him. The fantasy version of Kylie struggles to love Jonathan as she was created to do, and the consequences are disastrous. As his worlds collide, Jonathan must confront the truth of his power and figure out where he actually belongs—before he loses both Kylies forever.
-
#4

BLACK NUMBER FOUR

Author:

Kandi Steiner (Twitter)

Genre(s)

:

New Adult, Contemporary Romance

Release Date

:

April 4, 2015

Known as one of the youngest and most ambitious poker players in the country, Skyler Thorne has a reputation to uphold in Vegas this year. Her sole focus for spring semester is to perfect her game and get tournament ready – and have some fun with her sorority sisters, of course. Meeting a care-free pledge with incredible arms adds a whole new element of fun to her semester, but when a shocking discovery about his past surfaces, Skyler finds herself stuck in a game she wasn't prepared to play.

Kip Jackson is on a mission from his father. His plan was to get in, have a little fun, and then get out – on to bigger and better things. A feisty girl with bright blue eyes wasn't on his list of things to do, but she quickly moves her way up to the very top. When he realizes completing his dad's mission means crushing her in the process, he must decide if his dreams are worth the risk – or if he even has the same dreams, at all.

Two secrets. Two hearts. Two hands being played in one twisted game of deceit.

When the cards are on the table, will anyone be left standing?

The perfect poker face can only hide them for so long.
-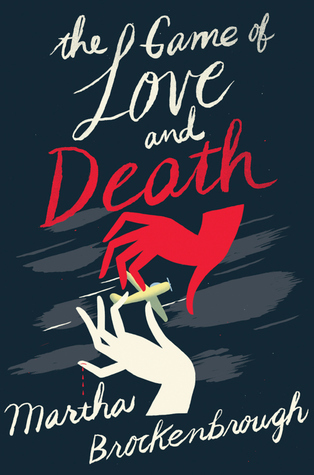 #5

THE GAME OF LOVE AND DEATH

Author:

Martha Brockenbrough (Twitter)

Genre(s):

YA, Historical Fiction, Romance

Release Date:

April 28, 2015




Antony and Cleopatra. Helen of Troy and Paris. Romeo and Juliet. And now . . . Henry and Flora.

For centuries Love and Death have chosen their players. They have set the rules, rolled the dice, and kept close, ready to influence, angling for supremacy. And Death has always won. Always.

Could there ever be one time, one place, one pair whose love would truly tip the balance?

Meet Flora Saudade, an African-American girl who dreams of becoming the next Amelia Earhart by day and sings in the smoky jazz clubs of Seattle by night. Meet Henry Bishop, born a few blocks and a million worlds away, a white boy with his future assured — a wealthy adoptive family in the midst of the Great Depression, a college scholarship, and all the opportunities in the world seemingly available to him.

The players have been chosen. The dice have been rolled. But when human beings make moves of their own, what happens next is anyone's guess.

Achingly romantic and brilliantly imagined,

The Game of Love and Death

is a love story you will never forget.