This meme shares what we read this past week and what our plans are for the upcoming week. It's a great way to see what others are reading and add to your own To Be Read list.
Last week wasn't so great for progress.
Work kicked my butt, so I didn't get much complete, save for finishing A Shade of Vampire which wasn't even in the queue. But the audiobook was teensy, so...
A CLOCKWORK ORANGE

Genres:

Classics, Science Fiction, Dystopian

Length:

7 hours & 45 minutes




Book Club (Book of the Month):

The OC Young, Fun and Nerdy Meetup: Nerds Read Books

Reading Challenges:

2015 Goodreads Challenge, 2015 Audiobook Challenge




A vicious fifteen-year-old "droog" is the central character of this 1963 classic, whose stark terror was captured in Stanley Kubrick's magnificent film of the same title.

In Anthony Burgess's nightmare vision of the future, where criminals take over after dark, the story is told by the central character, Alex, who talks in a brutal invented slang that brilliantly renders his and his friends' social pathology. A Clockwork Orange is a frightening fable about good and evil, and the meaning of human freedom. When the state undertakes to reform Alex—to "redeem" him—the novel asks, "At what cost?"

This edition includes the controversial last chapter not published in the first edition and Burgess's introduction "A Clockwork Orange Resucked".
~~~~~~~~~~~~~~~~~~~~~~
Genres:

YA, Fantasy, Paranormal Romance
Length:

8 hours & 42 minutes
Release Date:

April 8, 2013



Reading Challenges:

2015 Goodreads Challenge, 2015 Audiobook Challenge

In

A Shade Of Blood

, Bella Forrest transports you deeper into a unique, enthralling and beautifully sensitive story. Prepare to be lost in its pages…

When Sofia Claremont was kidnapped to a sunless island, uncharted by any map and ruled by the most powerful vampire coven on the planet, she believed she'd forever be a captive of its dark ruler, Derek Novak.

Now, after months of surviving an endless night, the morning sun may soon rise again for Sofia. Something has possessed Derek's heart and he offers her a gift no human slave has ever been given in the history of his cursed island: escape.

High school, prom and a chance to move on with her life now await her.

But will she be able to forget the horrors that steal her sleep away at night? … and the feelings that haunt her for that tormented prince of darkness?
She seemed far beyond his reach…could love draw them together?
For years shy animator Nathan has carried a torch for Brooke, the beautiful and dynamic Director of Development at their animation studio, even creating B-Girl, a comic-book heroine in her likeness. When a new project throws the two of them together, lovestruck Nathan finally seizes his moment – only to find Arnauld, head of the animation studio, claiming exclusive rights to Brooke's affections.
But Nathan, it turns out, is not giving up on his dreams so easily. With inspired determination, he sets out to be the super hero of wooing his girl. Threatened by his persistence, Arnauld plays dirty – only to spark an uprising at the studio that unleashes the sort of havoc only a building full of frustrated animators can create. While Nathan pulls out all the stops to win his B-girl, Brooke has to choose. Should she pursue the sparkling career that has taken her years to build…or follow her heart?
In the bestselling tradition of Sloan Crosley's
I Was Told There'd Be Cake
and Mindy Kaling's
Is Everyone Hanging Out Without Me?
, a collection of humorous essays on what it's like to be unabashedly awkward in a world that regards introverts as hapless misfits, and black as cool.
My name is "J" and I'm awkward—and black. Someone once told me those were the two worst things anyone could be. That someone was right. Where do I start?
Being an introvert in a world that glorifies cool isn't easy. But when Issa Rae, the creator of the Shorty Award–winning hit series "The Misadventures of Awkward Black Girl," is that introvert—whether she's navigating love, work, friendships, or "rapping"—it sure is entertaining. Now, in this debut collection of essays written in her witty and self-deprecating voice, Rae covers everything from cybersexing in the early days of the Internet to deflecting unsolicited comments on weight gain, from navigating the perils of eating out alone and public displays of affection to learning to accept yourself—natural hair and all.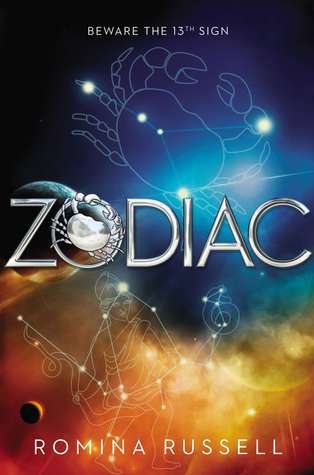 Genres:

YA, Fantasy, Science Fiction, Mythology, Astrology
Release Date:

December 9, 2014
Reading Challenges:
2015 Goodreads Challenge
At the dawn of time, there were 13 Houses in the Zodiac Galaxy. Now only 12 remain….
Rhoma Grace is a 16-year-old student from House Cancer with an unusual way of reading the stars. While her classmates use measurements to make accurate astrological predictions, Rho can't solve for 'x' to save her life—so instead, she looks up at the night sky and makes up stories.
When a violent blast strikes the moons of Cancer, sending its ocean planet off-kilter and killing thousands of citizens—including its beloved Guardian—Rho is more surprised than anyone when she is named the House's new leader. But, a true Cancerian who loves her home fiercely and will protect her people no matter what, Rho accepts.
Then, when more Houses fall victim to freak weather catastrophes, Rho starts seeing a pattern in the stars. She suspects Ophiuchus—the exiled 13th Guardian of Zodiac legend—has returned to exact his revenge across the Galaxy. Now Rho—along with Hysan Dax, a young envoy from House Libra, and Mathias, her guide and a member of her Royal Guard—must travel through the Zodiac to warn the other Guardians.
But who will believe anything this young novice says? Whom can Rho trust in a universe defined by differences? And how can she convince twelve worlds to unite as one Zodiac?
Embark on a dazzling journey with ZODIAC, the first novel in an epic sci-fi-meets-high-fantasy series set in a galaxy inspired by the astrological signs.