This meme shares what we read this past week and what our plans are for the upcoming week. It's a great way to see what others are reading and add to your own To Be Read list.
I finished The Girl with All the Gifts for a book club last Friday in just the nick of time (AKA in the parking lot 30 minutes before it began).

This week, I have the added pressure of reading Zodiac in the next three days before the library snatches it back and The Misadventures of Awkward Black Girl by Saturday for other book club.

This month, I also need to squeeze in three "Book of the Month" reads for each of the three book clubs I belong to. I'm not counting the four other books sitting shotgun in my car that I got from the library when I picked a BOTM checkout (... I said I wouldn't do that anymore).

A plan must be put in place for May...







In the bestselling tradition of Sloan Crosley's I Was Told There'd Be Cake and Mindy Kaling's Is Everyone Hanging Out Without Me?, a collection of humorous essays on what it's like to be unabashedly awkward in a world that regards introverts as hapless misfits, and black as cool.

My name is "J" and I'm awkward—and black. Someone once told me those were the two worst things anyone could be. That someone was right. Where do I start?

Being an introvert in a world that glorifies cool isn't easy. But when Issa Rae, the creator of the Shorty Award–winning hit series "The Misadventures of Awkward Black Girl," is that introvert—whether she's navigating love, work, friendships, or "rapping"—it sure is entertaining. Now, in this debut collection of essays written in her witty and self-deprecating voice, Rae covers everything from cybersexing in the early days of the Internet to deflecting unsolicited comments on weight gain, from navigating the perils of eating out alone and public displays of affection to learning to accept yourself—natural hair and all.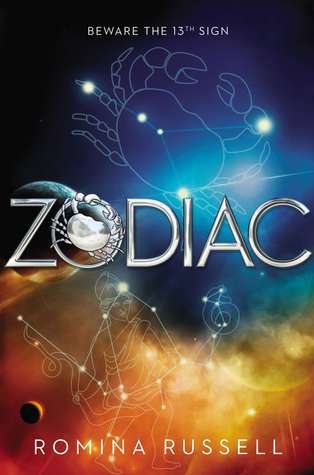 Genres:

YA, Fantasy, Science Fiction, Mythology, Astrology
Release Date:

December 9, 2014
Reading Challenges:
2015 Goodreads Challenge
At the dawn of time, there were 13 Houses in the Zodiac Galaxy. Now only 12 remain….
Rhoma Grace is a 16-year-old student from House Cancer with an unusual way of reading the stars. While her classmates use measurements to make accurate astrological predictions, Rho can't solve for 'x' to save her life—so instead, she looks up at the night sky and makes up stories.
When a violent blast strikes the moons of Cancer, sending its ocean planet off-kilter and killing thousands of citizens—including its beloved Guardian—Rho is more surprised than anyone when she is named the House's new leader. But, a true Cancerian who loves her home fiercely and will protect her people no matter what, Rho accepts.
Then, when more Houses fall victim to freak weather catastrophes, Rho starts seeing a pattern in the stars. She suspects Ophiuchus—the exiled 13th Guardian of Zodiac legend—has returned to exact his revenge across the Galaxy. Now Rho—along with Hysan Dax, a young envoy from House Libra, and Mathias, her guide and a member of her Royal Guard—must travel through the Zodiac to warn the other Guardians.
But who will believe anything this young novice says? Whom can Rho trust in a universe defined by differences? And how can she convince twelve worlds to unite as one Zodiac?
Embark on a dazzling journey with ZODIAC, the first novel in an epic sci-fi-meets-high-fantasy series set in a galaxy inspired by the astrological signs.