Each week we will post a characteristic and choose 5 of our favorite cover's with that characteristic.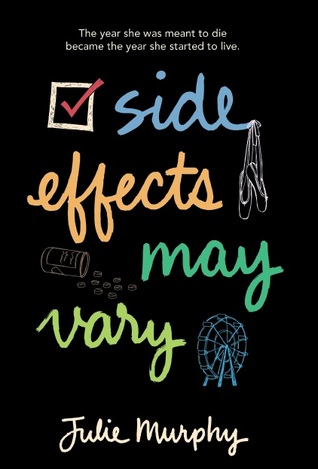 #5

Title:

Side Effects May Vary

Author:

Julie Murphy (Twitter)

Genre:

YA, Contemporary, Realistic Fiction
What if you'd been living your life as if you were dying—only to find out that you had your whole future ahead of you?
When sixteen-year-old Alice is diagnosed with leukemia, her prognosis is grim. To maximize the time she does have, she vows to spend her final months righting wrongs—however she sees fit. She convinces her friend Harvey, who she knows has always had feelings for her, to help her with a crazy bucket list that's as much about revenge (humiliating her ex-boyfriend and getting back at her archnemesis) as it is about hope (doing something unexpectedly kind for a stranger). But just when Alice's scores are settled, she goes into remission.
Now Alice is forced to face the consequences of all that she's said and done, as well as her true feelings for Harvey. But has she caused irreparable damage to the people around her—and to the one person who matters most?
-

#4

Title:

Promise of Shadows

Author:

Justina Ireland (Twitter)

Genre:

YA, Mythology, Urban Fantasy

Zephyr Mourning has never been very good at being a Harpy. She'd rather watch reality TV than learn forty-seven ways to kill a man, and she pretty much sucks at wielding magic. Zephyr was ready for a future pretending to be a normal human instead of a half-god assassin. But all that changes when her sister is murdered—and she uses a forbidden dark power to save herself from the same fate.

Zephyr is on the run from a punishment worse than death when an unexpected reunion with a childhood friend (a surprisingly HOT friend) changes everything. Because it seems like Zephyr might just be the Nyx, a dark goddess made flesh that is prophesied to change the power balance. For hundreds of years the half-gods have lived in fear, and Zephyr is supposed to change that.

But how is she supposed to save everyone when she can't even save herself?
-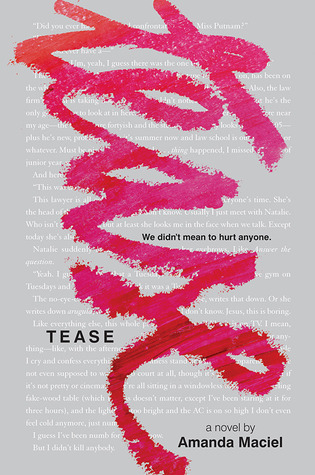 #3

Title:

Tease

Author:

Amanda Maciel (

Twitter

)

Genre:

YA, Contemporary, Realistic Fiction




From debut author Amanda Maciel comes a provocative and unforgettable novel, inspired by real-life incidents, about a teenage girl who faces criminal charges for bullying after a classmate commits suicide.

Emma Putnam is dead, and it's all Sara Wharton's fault. At least, that's what everyone seems to think. Sara, along with her best friend and three other classmates, has been criminally charged for the bullying and harassment that led to Emma's shocking suicide. Now Sara is the one who's ostracized, already guilty according to her peers, the community, and the media. In the summer before her senior year, in between meetings with lawyers and a court-recommended therapist, Sara is forced to reflect on the events that brought her to this moment—and ultimately consider her own role in an undeniable tragedy. And she'll have to find a way to move forward, even when it feels like her own life is over.

With its powerful narrative, unconventional point of view, and strong anti-bullying theme, this coming-of-age story offers smart, insightful, and nuanced views on high school society, toxic friendships, and family relationships.
-
#2
Title:
Tilt
Author:
Ellen Hopkins (Twitter)
Genre:
YA, Contemporary, Realistic Fiction, Poetry
Love—good and bad—forces three teens' worlds to tilt in a riveting novel from New York Times bestselling author Ellen Hopkins.
Three teens, three stories—all interconnected through their parents' family relationships. As the adults pull away, caught up in their own dilemmas, the lives of the teens begin to tilt….

Mikayla, almost eighteen, is over-the-top in love with Dylan, who loves her back jealously. But what happens to that love when Mikayla gets pregnant the summer before their senior year—and decides to keep the baby?

Shane turns sixteen that same summer and falls hard in love with his first boyfriend, Alex, who happens to be HIV positive. Shane has lived for four years with his little sister's impending death. Can he accept Alex's love, knowing that his life, too, will be shortened?

Harley is fourteen—a good girl searching for new experiences, especially love from an older boy. She never expects to hurdle toward self-destructive extremes in order to define who she is and who she wants to be.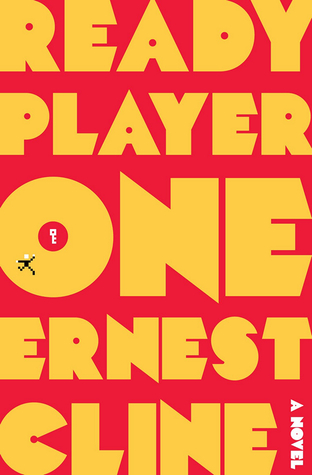 Title:

Ready Player One


Author:

Ernest Cline (Twitter

)




Genre:

Science Fiction, Dystopian
It's the year 2044, and the real world is an ugly place.

Like most of humanity, Wade Watts escapes his grim surroundings by spending his waking hours jacked into the OASIS, a sprawling virtual utopia that lets you be anything you want to be, a place where you can live and play and fall in love on any of ten thousand planets.

For years, millions have struggled fruitlessly to attain this prize, knowing only that Halliday's riddles are based in the pop culture he loved -- that of the late twentieth century. And for years, millions have found in this quest another means of escape, retreating into happy, obsessive study of Halliday's icons. Like many of his contemporaries, Wade is as comfortable debating the finer points of John Hughes's oeuvre, playing Pac-Man, or reciting Devo lyrics as he is scrounging power to run his OASIS rig.

And then Wade stumbles upon the first puzzle.
Suddenly the whole world is watching, and thousands of competitors join the hunt -- among them certain powerful players who are willing to commit very real murder to beat Wade to this prize. Now the only way for Wade to survive and preserve everything he knows is to win. But to do so, he may have to leave behind his oh-so-perfect virtual existence and face up to life -- and love -- in the real world he's always been so desperate to escape.

A world at stake.
A quest for the ultimate prize.
Are you ready?