Each week we will post a characteristic and choose 5 of our favorite cover's with that characteristic.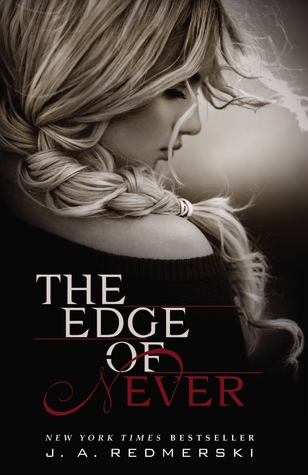 #5

Title:

The Edge of Never

Book Series:

The Edge of Never, Book #1

Author:

J.A. Redmerski (Twitter)

Genre:

New Adult, Contemporary Romance
Twenty-year-old Camryn Bennett had always been one to think out-of-the-box, who knew she wanted something more in life than following the same repetitive patterns and growing old with the same repetitive life story. And she thought that her life was going in the right direction until everything fell apart.
Determined not to dwell on the negative and push forward, Camryn is set to move in with her best friend and plans to start a new job. But after an unexpected night at the hottest club in downtown North Carolina, she makes the ultimate decision to leave the only life she's ever known, far behind.
With a purse, a cell phone and a small bag with a few necessities, Camryn, with absolutely no direction or purpose boards a Greyhound bus alone and sets out to find herself. What she finds is a guy named Andrew Parrish, someone not so very different from her and who harbors his own dark secrets. But Camryn swore never to let down her walls again. And she vowed never to fall in love.
But with Andrew, Camryn finds herself doing a lot of things she never thought she'd do. He shows her what it's really like to live out-of-the-box and to give in to her deepest, darkest desires. On their sporadic road-trip he becomes the center of her exciting and daring new life, pulling love and lust and emotion out of her in ways she never imagined possible. But will Andrew's dark secret push them inseparably together, or tear them completely apart?
-

#4

Title:

Crux

Author:

Julie Reece (Twitter)

Genre:

YA, Fantasy, Paranormal, Urban Fantasy, Magic

She should have run. Now, she'll have to fight. Eighteen year old Birdie may be homeless, but she's surviving, that is until a mysterious guy throws money in the air like a crazy game show host and she grabs some with the idea she'll be able to buy dinner that night. In that singular moment, unassuming Birdie becomes the girl in everyone's viewfinder.
Thugs want to kill her. Money-guy wants to recruit her. The very hot, very rich and very out of her league Grey Mathews wants to save her. Birdie, though, wants nothing to do with any of them until she realizes fate didn't bring them all together. Her heritage did. Now, with only twenty-one days left, she's got to decide whether to follow in the footsteps of those before her or risk her life for people she's only just met.
-
#3
Title:
A Touch Morbid
Book Series
:
A Touch Trilogy, Book #2
Author:
Leah Clifford
(Twitter)
Genre:
YA, Fantasy, Paranormal, Angels, Demons
Eden won the battle-she saved her true love from the darkest evil. But the war has only just begun. With secrets swirling around her, powerful allies unraveling, and life-and death-as she knows it eroding, Eden and those she loves tread dangerous ground. Can she trust anyone? Will her unearthly powers be her salvation or her downfall? A sweeping, dark, and sexy paranormal romance that will haunt readers with an inventive mythology and a cinematic New York City filled with shadows and longing.
-
#2

Title:

Flicker

Book Series:

Flicker, Book #1

Author:

Kaye Thornbrugh (Twitter)

Genre:

YA, Paranormal, Fantasy, Fae, Fairies

When sixteen-year-old Lee Capren is spirited away to Faerie, she is forced to serve capricious faeries as a prized portrait artist… and live as their prisoner.

A chance encounter with the charming Nasser grants Lee a chance for freedom—but what felt like mere days in Faerie spanned years in the human world, and Lee no longer has a home to return to.

Nasser is a Seer—a human with magical powers—and Lee is quickly plunged into his world: a sprawling city teeming with magic and mystery, where supernatural creatures walk hidden among humans. With the help of a rag-tag group of teenage Seers, Lee must master her newfound magical talent and outwit a cunning faerie determined to destroy her.
Title:

Mystic City


Book Series:

Mystic City, Book #1


Author:

Theo Lawrence (Twitter)


Genre:

YA, Fantasy, Dystopian
Aria Rose, youngest scion of one of Mystic City's two ruling rival families, finds herself betrothed to Thomas Foster, the son of her parents' sworn enemies. The union of the two will end the generations-long political feud - and unite all those living in the Aeries, the privileged upper reaches of the city, against the banished mystics who dwell below in the Depths.

But Aria doesn't remember falling in love with Thomas; in fact, she wakes one day with huge gaps in her memory. And she can't conceive why her parents would have agreed to unite with the Fosters in the first place.

Only when Aria meets Hunter, a gorgeous rebel mystic from the Depths, does she start to have glimmers of recollection - and to understand that he holds the key to unlocking her past. The choices she makes can save or doom the city - including herself.