Top 5 Best Book Covers is monthly meme created by
The Ramblings of a Coffee Addicted Writer
. The rules are simple: on the first Saturday of every month, post your 5 favorite books covers that are being released in the current month!
#1

Title:

Save Me

Author:

Jenny Elliott

Genre:

YA, Paranormal

Release Date:

January 6, 2015

Debut-novelist Jenny Elliott's thrilling romance, chosen by readers, writers, and publishers for the first list in the new Swoon Reads imprint, pours on the tension and danger in an addictive combination that will keep you turning pages!

Something strange is going on in the tiny coastal town of Liberty, Oregon. Cara has never seen a whale swim close enough for her to touch it—let alone knock her into the freezing water. Fortunately, cute newcomer David is there to save her, and the rescue leads to a bond deeper than Cara ever imagined.

But then she learns something about David that changes everything, and Cara is devastated. She turns to her best friend for support, but Rachel has changed. She's suddenly into witchcraft, and is becoming dangerously obsessed with her new boyfriend….

Cara has lost her best friend, discovered that her soul mate is off limits, and has attracted the attention of a stalker. But she's not completely alone. Her mysterious, gorgeous new friend Garren is there to support her. But is Garren possibly too perfect?
Why I Picked It:

I am an addict when it comes to "Suspended in Air" covers. LOVE THEM.



#2

Title:

The Witches of Echo Park

Author:

The Witches of Echo Park, Book #1

Author:

Amber Benson (Facebook)

Genre:

YA, Urban Fantasy, Magic, Witches

Released:

January 6, 2015 Unbeknownst to most of humankind, a powerful network of witches thrives within the shadows of society, using their magic to keep the world in balance. But they are being eliminated—and we will all pay if their power falls…

When Elyse MacAllister's great-aunt Eleanora, the woman who raised her, becomes deathly ill, Lyse puts her comfortable life in Georgia on hold to rush back to Los Angeles. And once she returns to Echo Park, Lyse discovers her great-aunt has been keeping secrets—extraordinary secrets—from her.

Not only is Lyse heir to Eleanora's Victorian estate; she is also expected to take her great-aunt's place in the Echo Park coven of witches. But to accept her destiny means to place herself in deadly peril—for the world of magic is under siege, and the battle the witches now fight may be their last…




Why I Picked It:

Willow's girlfriend Tara is an author??? Say waaaa? I definitely thought of her when i saw the name, but didn't realize he was an author. That aside, I love witches and magic, and i think the cover illustrates it well.


-
#3

Title:

When

Author:

Victoria Laurie (Twitter)

Genre:

YA, Paranormal, Mystery Thriller

Release Date:

January 13, 2015

Maddie Fynn is a shy high school junior, cursed with an eerie intuitive ability: she sees a series of unique digits hovering above the foreheads of each person she encounters. Her earliest memories are marked by these numbers, but it takes her father's premature death for Maddie and her family to realize that these mysterious digits are actually death dates, and just like birthdays, everyone has one.

Forced by her alcoholic mother to use her ability to make extra money, Maddie identifies the quickly approaching death date of one client's young son, but because her ability only allows her to see the when and not the how, she's unable to offer any more insight. When the boy goes missing on that exact date, law enforcement turns to Maddie.

Soon, Maddie is entangled in a homicide investigation, and more young people disappear and are later found murdered. A suspect for the investigation, a target for the murderer, and attracting the attentions of a mysterious young admirer who may be connected to it all, Maddie's whole existence is about to be turned upside down. Can she right things before it's too late?

Why I Picked It:

So many elements come together beautifully. I like her expression and body language, as well.

-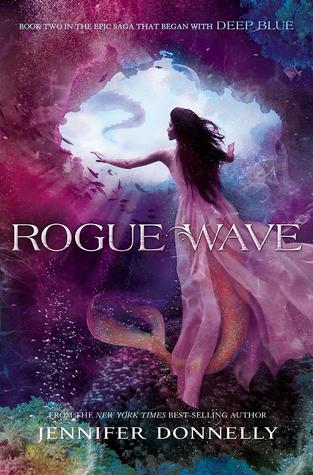 #4

Title:

Rogue Wave

Series:

Waterfire Saga, Book #2

Author:

Jennifer Donnelly (Twitter)

Genre:

YA, Fantasy, Mermaids

Released:

January 6, 2015 In this exciting sequel to DEEP BLUE, Serafina uncovers more clues about the talismans, Neela ventures into a sea dragon's nest, and Ling learns the identity of their foe.

Serafina, Neela, Ling, Ava, Becca, and Astrid, six mermaids from realms scattered throughout the seas and freshwaters, were summoned by the leader of the river witches to learn an incredible truth: the mermaids are direct descendants of the Six Who Ruled-powerful mages who once governed the lost empire of Atlantis. The ancient evil that destroyed Atlantis is stirring again, and only the mermaids can defeat it. To do so, they need to find magical talismans that belonged to the Six.

Serafina believes her talisman was buried with an old shipwreck. While researching its location, she is almost discovered by a death rider patrol led by someone familiar. . . . The pain of seeing him turned traitor is devastating.

Neela travels to Matali to warn her parents of the grave threat facing their world. But they find her story outlandish; a sign that she needs to be confined to her chamber for rest and recovery. She escapes and travels to Kandina, where her talisman is in the possession of fearsome razormouth dragons.

As they hunt for their talismans, both Serafina and Neela find reserves of courage and cunning they didn't know they possessed. They face down danger and death, only to endure a game-changing betrayal, as shocking as a rogue wave.

Why I Picked It:

It's just so purdy...


-
#5

Title:

Forsaken

Series:

Otherworld Stories, Book #3.3

Author:

Kelley Armstrong

Genres:

YA, Urban Fantasy, Werewolves

Released:

January 31, 2015




Being Alpha of the North American Pack is like being a small-town sheriff — nobody wants the job, but someone's gotta do it.

For the most part, Elena Michaels likes it just fine, even if it means dealing with arrogant misogynists in the werewolf world who are convinced that a woman isn't up to the job.

That she could handle. What she never expected was a deadly threat to her eight-year-old twins. That her little girl could go missing in the night.

The enemy thought he was dealing with a hysterical mother.

Mother, yes. Hysterical, no.

Elena was Alpha for a reason. And nothing would stop her from getting her child back.