Top Ten Tuesday is weekly meme created by
The Broke and the Bookish
, as they are "particularly fond of lists".
Books I'd Love to Read With My Book Club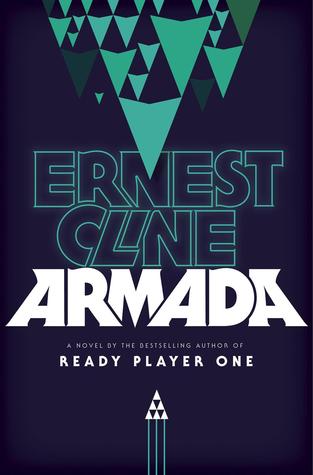 ARMADA

Author::

Ernest Cline (Twitter)

Genre(s)::

Science Fiction, Aliens




Zack Lightman is daydreaming through another dull math class when the high-tech dropship lands in his school's courtyard-and when the men in the dark suits and sunglasses leap out of the ship and start calling his name, he's sure he's still dreaming.

But the dream is all too real; the people of Earth need him. As Zack soon discovers, the videogame he's been playing obsessively for years isn't just a game; it's part of a massive, top-secret government training program, designed to teach gamers the skills they'll need to defend Earth from a possible alien invasion. And now…that invasion is coming.

As he and his companions prepare to enter their ships and do battle, Zack learns that the father he thought was dead is actually a key player in this secret war. And together with his father, he'll uncover the truth about the alien threat, race to prevent a genocide, and discover a mysterious third player in the interplanetary chess game he's been thrown into.

Why I Picked It::

This is my most anticipated book of the year. I have been stalking Ernest's website for the past few years since finishing Ready Player One, as it is my favorite stand-alone book, just hoping he'd publish something new. So, as you can imagine, I'm just itching to get my hands on Armada; oh yes, the magic will strike twice!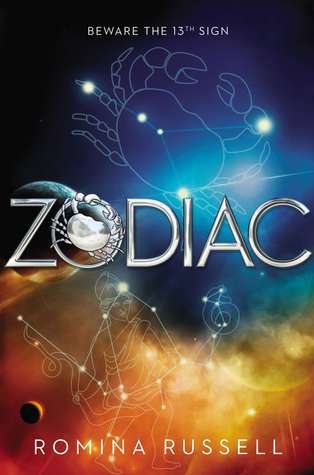 ZODIAC

Book Series::

Zodiac, Book #1

Author::

Romina Russell (Twitter)

Genre(s)::

YA, Dystopian, Science Fiction At the dawn of time, there were 13 Houses in the Zodiac Galaxy. Now only 12 remain…


Rhoma Grace is a 16-year-old student from House Cancer with an unusual way of reading the stars. While her classmates use measurements to make accurate astrological predictions, Rho can't solve for 'x' to save her life—so instead, she looks up at the night sky and makes up stories.

When a violent blast strikes the moons of Cancer, sending its ocean planet off-kilter and killing thousands of citizens—including its beloved Guardian—Rho is more surprised than anyone when she is named the House's new leader. But, a true Cancerian who loves her home fiercely and will protect her people no matter what, Rho accepts.

Then, when more Houses fall victim to freak weather catastrophes, Rho starts seeing a pattern in the stars. She suspects Ophiuchus—the exiled 13th Guardian of Zodiac legend—has returned to exact his revenge across the Galaxy. Now Rho—along with Hysan Dax, a young envoy from House Libra, and Mathias, her guide and a member of her Royal Guard—must travel through the Zodiac to warn the other Guardians.

But who will believe anything this young novice says? Whom can Rho trust in a universe defined by differences? And how can she convince twelve worlds to unite as one Zodiac?
Why I Picked It::
I just
really
want to read this. I got it from the library last week and will probably finish it soon, it's still a top pick. The topic, astrology, interests me so much I'd love to discuss it in a group setting. I think the world building will be amazing... or should I say stellar; just check out her
website
.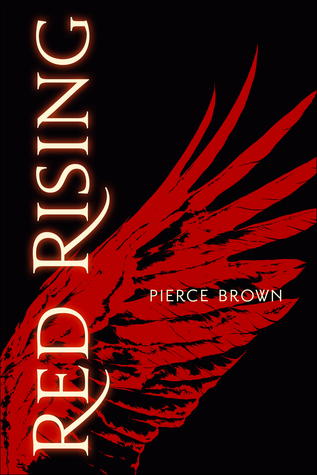 RED RISING

Book Series::

Red Rising Trilogy, Book #1

Author::

Pierce Brown (Twitter)

Genre(s)::

YA, Dystopian, Science Fiction

The Earth is dying. Darrow is a Red, a miner in the interior of Mars. His mission is to extract enough precious elements to one day tame the surface of the planet and allow humans to live on it. The Reds are humanity's last hope.

Or so it appears, until the day Darrow discovers it's all a lie. That Mars has been habitable - and inhabited - for generations, by a class of people calling themselves the Golds. A class of people who look down on Darrow and his fellows as slave labour, to be exploited and worked to death without a second thought.

Until the day that Darrow, with the help of a mysterious group of rebels, disguises himself as a Gold and infiltrates their command school, intent on taking down his oppressors from the inside. But the command school is a battlefield - and Darrow isn't the only student with an agenda.

Why I Picked It::

This is an easy pick. It's been getting rave reviews, as is the recently released second book in the trilogy, Golden Son.
S.

Author::

J.J. Abrams

& Doug Dorst

Genre(s)::

Fiction, Mystery, Fantasy




One book. Two readers. A world of mystery, menace, and desire.


A young woman picks up a book left behind by a stranger. Inside it are his margin notes, which reveal a reader entranced by the story and by its mysterious author. She responds with notes of her own, leaving the book for the stranger, and so begins an unlikely conversation that plunges them both into the unknown.

THE BOOK:

Ship of Theseus, the final novel by a prolific but enigmatic writer named V. M. Straka, in which a man with no past is shanghaied onto a strange ship with a monstrous crew and launched onto a disorienting and perilous journey.

THE WRITER:

Straka, the incendiary and secretive subject of one of the world's greatest mysteries, a revolutionary about whom the world knows nothing apart from the words he wrote and the rumours that swirl around him.

THE READERS:

Jennifer and Eric, a college senior and a disgraced grad student, both facing crucial decisions about who they are, who they might become, and how much they're willing to trust another person with their passions, hurts, and fears.

S., conceived by filmmaker J. J. Abrams and written by award-winning novelist Doug Dorst, is the chronicle of two readers finding each other in the margins of a book and enmeshing themselves in a deadly struggle between forces they don't understand. It is also Abrams and Dorst's love letter to the written word.


Why I Picked It::

I tried reading this before... and I failed. It's a lot of book to take in. You have the main story (the book/writer) and then two sets of handwritten notes scribbled in the margins from two different authors (the readers). Also, it comes with reference material - maps, transcripts, etc.etc.

I figure if this is a book club selection, it give me the push to finish it. Because honestly, the book was quite intriguing.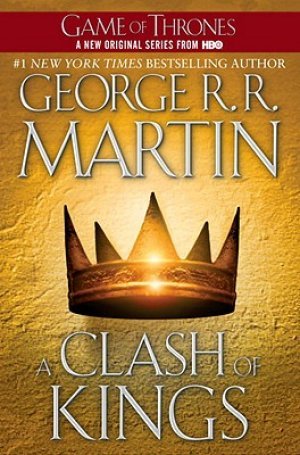 A CLASH OF KINGS

Book Series::

A Song of Ice and Fire, Book #2

Author::

George R.R. Martin (Twitter)

Genre(s)::

Fiction, Fantasy, Epic Fantasy


Time is out of joint. The summer of peace and plenty, ten years long, is drawing to a close, and the harsh, chill winter approaches like an angry beast. Two great leaders—Lord Eddard Stark and Robert Baratheon;who held sway over an age of enforced peace are dead...victims of royal treachery. Now, from the ancient citadel of Dragonstone to the forbidding shores of Winterfell, chaos reigns, as pretenders to the Iron Throne of the Seven Kingdoms prepare to stake their claims through tempest, turmoil, and war.

As a prophecy of doom cuts across the sky;a comet the color of blood and flame;six factions struggle for control of a divided land. Eddard;s son Robb has declared himself King in the North. In the south, Joffrey, the heir apparent, rules in name only, victim of the scheming courtiers who teem over King's Landing. Robert's two brothers each seek their own dominion, while a disfavored house turns once more to conquest. And a continent away, an exiled queen, the Mother of Dragons, risks everything to lead her precious brood across a hard hot desert to win back the crown that is rightfully hers.

A Clash of Kings transports us into a magnificent, forgotten land of revelry and revenge, wizardry and wartime. It is a tale in which maidens cavort with madmen, brother plots against brother, and the dead rise to walk in the night. Here a princess masquerades as an orphan boy; a knight of the mind prepares a poison for a treacherous sorceress; and wild men descend from the Mountains of the Moon to ravage the countryside.

Against a backdrop of incest and fratricide, alchemy and murder, the price of glory may be measured in blood. And the spoils of victory may just go to the men and women possessed of the coldest steel...and the coldest hearts. For when rulers clash, all of the land feels the tremors.
Why I Picked It::
This is another one I need a push with. I've gotten maybe three chapters in, and it just didn't grab me. I'm up-to-date on the HBO series, so I know it gets good, but I just haven't gotten around to it.
ANGELS' BLOOD

Book Series::

Guild Hunter, Book #1

Authors::

Nalini Singh (Twitter)

Genre(s)::

Paranormal, Paranormal Romance, Urban Fantasy

Vampire hunter Elena Deveraux knows she is the best- but she does not know if even she is good enough for this job. Hired by the dangerously beautiful archangel Raphael, a being so lethal that no mortal wants his attention, Elena knows failure is not an option—even if the task is impossible.

Because this time, it's not a wayward vamp she has to track. It's an archangel gone bad.

The job will put Elena in the midst of a killing spree like no other—and pull her to the razor's edge of passion. Even if the hunt does not destroy her, succumbing to Raphael's seductive touch just might. For when archangels play, mortals break.


Why I Picked It:: I love love love Nalini... so, I don't have a good reason for not starting this one.
OUTLANDER

Book Series::

Outlander, Book #1

Author::

Diana Gabaldon (Twitter)

Genre(s)::

Historical Fiction, Fantasy, Romance




The year is 1945. Claire Randall, a former combat nurse, is back from the war and reunited with her husband on a second honeymoon—when she walks through a standing stone in one of the ancient stone circles that dot the British Isles. Suddenly she is a Sassenach—an "outlander"—in a Scotland torn by war and raiding border clans in the year of Our Lord . . . 1743.

Hurled back in time by forces she cannot understand, Claire is catapulted into the intrigues of lairds and spies that may threaten her life . . . and shatter her heart. For here James Fraser, a gallant young Scots warrior, shows her a love so absolute that Claire becomes a woman torn between fidelity and desire . . . and between two vastly different men in two irreconcilable lives.

Why I Picked It:: I haven't read historical fiction/romance before and this a big-ass book. It's a bit daunting. But again, I love the television series.



FURIES OF CALDERON

Book Series::

Codex Alera, Book #1

Author::

Jim Butcher (Twitter)

Genre(s)::

Fantasy, Epic Fantasy




For a thousand years, the people of Alera have united against the aggressive and threatening races that inhabit the world, using their unique bond with the furies - elementals of earth, air, fire, water, and metal. But now, Gaius Sextus, First Lord of Alera, grows old and lacks an heir. Ambitious High Lords plot and maneuver to place their Houses in positions of power, and a war of succession looms on the horizon."
"Far from city politics in the Calderon Valley, the boy Tavi struggles with his lack of furycrafting. At fifteen, he has no wind fury to help him fly, no fire fury to light his lamps. Yet as the Alerans' most savage enemy - the Marat - return to the Valley, he will discover that his destiny is much greater than he could ever imagine." Caught in a storm of deadly wind furies, Tavi saves the life of a runaway slave named Amara. But she is actually a spy for Gaius Sextus, sent to the Valley to gather intelligence on traitors to the Crown, who may be in league with the barbaric Marat horde. And when the Valley erupts in chaos - when rebels war with loyalists and furies clash with furies - Amara will find Tavi's courage and resourcefulness to be a power greater than any fury - one that could turn the tides of war.
A BRIEF HISTORY OF TIME
Author::
Stephen Hawking
Genre(s)::
Science, Nonfiction, Physics, History
From the time of the ancient Greeks through the present time, this historical overview of cosmology is told by one of the most famous and fascinating scientists today.
In the ten years since its publication in 1988, Stephen Hawking's book has become a landmark volume in scientific writing, with more than nine million copies sold worldwide. That edition was on the cutting edge of what was then known about the nature of the universe. But the last decade has seen extraordinary advances in the technology of observing both the micro- and the macrocosmic worlds, confirming many of Professor Hawking's theoretical predictions. Eager to bring to his original text the new knowledge revealed by these observations, he has written a new introduction, updated the original chapters throughout, and added an entirely new chapter on the fascinating subject of wormholes and time travel.
Why I Picked It::
I don't read much nonfiction or books about science less the fiction. Nor do I know a lot about Stephen Hawking. I think this would be a good discussion book; how could it not be debate- and thought-provoking. Also, it just sounds interesting.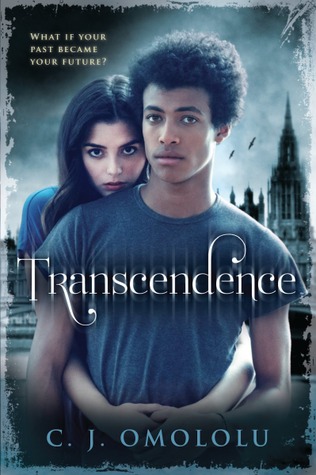 TRANSCENDENCE

Book Series::

Transcendence, Book #1

Author::

C.J. Omololu (Twitter)

Genre(s)::

YA, Paranormal, Fantasy




When a visit to the Tower of London triggers an overwhelmingly real vision of a beheading that occurred centuries before, Cole Ryan fears she is losing her mind. A mysterious boy, Griffon Hall, comes to her aid, but the intensity of their immediate connection seems to open the floodgate of memories even wider.

As their feelings grow, Griffon reveals their common bond as members of the Akhet—an elite group of people who can remember past lives and use their collected wisdom for the good of the world. But not all Akhet are altruistic, and a rogue is after Cole to avenge their shared past. Now in extreme danger, Cole must piece together clues from many lifetimes. What she finds could ruin her chance at a future with Griffon, but risking his love may be the only way to save them both.

Full of danger, romance, and intrigue, Transcendence breathes new life into a perpetually fascinating question: What would you do with another life to live?
Why I Picked It::
I think this would be an excellent book for my Mocha Girls Read book club. This is the first interracial book cover I've seen (black & white, at least), for something paranormal and in the YA realm.