Top Ten Tuesday is weekly meme created by
The Broke and the Bookish
, as they are "particularly fond of lists".
FREEBIE (My Favorite Series)
For this freebie post, I've decided to cover a topic I never tire of discussing
—
my favorite series. As of today, these are My Top Ten Most-Beloved Series, in descending order, with my favorite series listed first. No surprises if you've visited my blog, it's The Dresden Files. Each series is represented by my favorite book so far; so at the same time, beware of spoilers:
COLD DAYS

Book Series::

The Dresden Files, Book #14

Author::

Jim Butcher (Twitter)

Genre(s)::

Urban Fantasy, Mystery




HARRY DRESDEN LIVES!!!


After being murdered by a mystery assailant, navigating his way through the realm between life and death, and being brought back to the mortal world, Harry realizes that maybe death wasn't all that bad. Because he is no longer Harry Dresden, Chicago's only professional wizard.

He is now Harry Dresden, Winter Knight to Mab, the Queen of Air and Darkness. After Harry had no choice but to swear his fealty, Mab wasn't about to let something as petty as death steal away the prize she had sought for so long. And now, her word is his command, no matter what she wants him to do, no matter where she wants him to go, and no matter who she wants him to kill.

Guess which Mab wants first?

Of course, it won't be an ordinary, everyday assassination. Mab wants her newest minion to pull off the impossible: kill an immortal. No problem there, right? And to make matters worse, there exists a growing threat to an unfathomable source of magic that could land Harry in the sort of trouble that will make death look like a holiday.

Beset by enemies new and old, Harry must gather his friends and allies, prevent the annihilation of countless innocents, and find a way out of his eternal subservience before his new found powers claim the only thing he has left to call his own…

His soul.

Why I Love It::

I discovered this series on Audible, so James Marsters gets a lot of the credit. I loved him on Buffy the Vampire Slayer as Spike, so when I saw his name as the narrator, I picked it up immediately. I'd never heard of The Dresden Files, Jim Butcher, and embarrassingly enough, a few years back I didn't really read many books by men (sexist much, I know. I'm not sure why). Anyway, after the first book I was in love and marathoned through about 6 books back-to-back. I've listened to the full series to date at least 4 times in the past 2-3 years. Crazy right.

Audiobook Loyal::

I'd also bring up the concept of being "audiobook loyal". Which means, for this series, it's audiobook only. For me, James is Harry. I do have a signed copy of Skin Game, I just am not sure if I'll ever read it.
HEART OF OBSIDIAN

Book Series::

Psy-Changeling, Book #12

Author::

Nalini Singh (Twitter)

Genre(s)::

Adult, Urban Fantasy, Shapeshifters, Changelings, Psy

A dangerous, volatile rebel, hands stained bloodred.

A woman whose very existence has been erased.

A love story so dark, it may shatter the world itself.

A deadly price that must be paid.

The day of reckoning is here.

In 2006, Nalini Singh introduced the beguiling and sensual Psy/Changeling world in Slave to Sensation, which spawned a series that has had readers and critics cheering. Throughout the incredible eleven-book run there has been one question that has tantalized Nalini's legion of fans. Now, in the eagerly awaited twelfth book in the series, Nalini Singh finally reveals the answer to the biggest Psy/Changeling mystery—an answer so surprising we wouldn't dare spoil it. Even if we knew. In 2006, Nalini Singh introduced the beguiling and sensual Psy/Changeling world in Slave to Sensation, which spawned a series that has had readers and critics cheering. Throughout the incredible eleven-book run there has been one question that has tantalized Nalini's legion of fans. Now, in the eagerly awaited twelfth book in the series, Nalini Singh finally reveals the answer to the biggest Psy/Changeling mystery—an answer so surprising we wouldn't dare spoil it. Even if we knew.

From "the alpha author of paranormal romance" (Booklist) comes the most highly anticipated novel of her career—one that blurs the line between madness and genius, between subjugation and liberation, between the living and the dead.
Why I Love It::
Nalini is a master storyteller. The Psy/Changeling world is so vast, so rich. There are so many characters and each has their own point of view, motives and secrets. With each book, you delve deeper into the Changeling packs, unravel Psy mysteries and secrets, and get a unique, steamy romance. What more can a girl ask for!
Audiobook Loyal::
Kudos to Angela Dawe!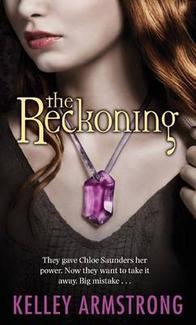 THE RECKONING

Book Series::

Darkest Powers, Book #3

Author::

Kelley Armstrong (Twitter)

Genre(s)::

YA, Paranormal, Supernatural

Chloe Saunders is fifteen and would love to be normal. Unfortunately, Chloe happens to be a genetically engineered necromancer who can raise the dead without even trying. She and her equally gifted (or should that be 'cursed'?) friends are now running for their lives from the evil corporation that created them.

As if that's not enough, Chloe is struggling with her feelings for Simon, a sweet-tempered sorcerer, and his brother Derek, a not so sweet-tempered werewolf. And she has a horrible feeling she's leaning towards the werewolf...

Definitely not normal.




Why I Love It::

Derek Sousa. My first book boyfriend. I love him. I love the journey he goes through with Chloe. I love their story, though it's bittersweet because it feels unfinished to me and Kelley has expressed that in her mind, their story is done. At least once a year since finishing the series, I've reread the trilogy. I love it; like revisiting an old friend.

I own this series in both hardback and audiobook form. I read it first, then checked out the audiobooks. Cassandra Morris is fantastic. Her interpretation of Derek is better than mine.
SUCCUBUS SHADOWS

Book Series::

Georgina Kincaid, Book #5

Author::

Richelle Mead (Twitter)

Genre(s)::

Urban Fantasy, Supernatural




Georgina Kincaid has formidable powers. Immortality, seduction, shape-shifting into any human form she desires, walking in heels that would cripple mere mortals -- all child's play to a succubus like her.

Helping to plan her ex-boyfriend's wedding is a different story. Georgina isn't sure which is worse -- that Seth is marrying another woman, or that Georgina has to run all over Seattle trying on bridesmaid dresses. Still, there are distractions. Georgina's roommate, Roman, is cluttering her apartment with sexual tension. Then there's Simone, the new succubus in town, who's intent on corrupting Seth.

But the real danger lies in the mysterious force that's visiting her thoughts, trying to draw her into a dark, otherworldly realm. Sooner or later, Georgina knows she'll be too weak to resist. And when that happens, she'll discover who she can trust, who she can't -- and that Hell is far from the worst place to spend eternity...


Why I Love It::

Richelle opened my eyes to the world of Urban Fantasy and reading beyond YA. I read strictly YA until this series began, which was like my mid-twenties. I remember being in-between books in her Vampire Academy series and wanting something else to read. I saw in a dust jacket she had an adult series, so I gave it a whirl and the rest is history...
WRANGLED AND TANGLED

Book Series::

Blacktop Cowboys, Book #3

Author::

Lorelei James (Twitter)

Genre(s)::

Erotica, Contemporary Romance, Western

Janie Fitzhugh and Abe Lawson have long been divorced and living apart. Now she's back in town, a changed woman-making cattleman Abe want to wrangle an invitation to her bed...

To get his dream ranch, Renner Jackson has partnered with spoiled daddy's girl Tierney Pratt. She thinks she can handle this cowboy, but Renner won't make it easy. Little do they know they will be entangled in ways neither dreamed possible.




Why I Love It::

I think I was in-between books in the Psy/Changeling series and I was willing to try new things... new sexy books to be specific. I'd never read a strictly romance book or one in the Erotica realm. I'm not even sure why I chose this one, since I knew nothing about cowboys, rodeos or Wyoming. But, I'm so glad I picked this up. It's fabulous. Lorelei doesn't skimp on character development or world building. You get a real sense of community since it revolves around the tiny speck of a town, Muddy Gap.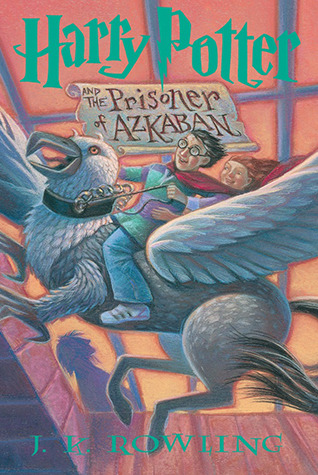 HARRY POTTER AND THE PRISONER OF AZKABAN

Book Series::

Harry Potter, Book #1

Authors::

J.K. Rowling (Twitter)

Genre(s)::

Middle Grade, Fantasy, Magic Boarding School




For most children, summer vacation is something to look forward to. But not for our 13-year-old hero, who's forced to spend his summers with an aunt, uncle, and cousin who detest him. The third book in J.K. Rowling's Harry Potter series catapults into action when the young wizard "accidentally" causes the Dursleys' dreadful visitor Aunt Marge to inflate like a monstrous balloon and drift up to the ceiling. Fearing punishment from Aunt Petunia and Uncle Vernon (and from officials at Hogwarts School of Witchcraft and Wizardry who strictly forbid students to cast spells in the nonmagic world of Muggles), Harry lunges out into the darkness with his heavy trunk and his owl Hedwig.

As it turns out, Harry isn't punished at all for his errant wizardry. Instead he is mysteriously rescued from his Muggle neighborhood and whisked off in a triple-decker, violently purple bus to spend the remaining weeks of summer in a friendly inn called the Leaky Cauldron. What Harry has to face as he begins his third year at Hogwarts explains why the officials let him off easily. It seems that Sirius Black--an escaped convict from the prison of Azkaban--is on the loose. Not only that, but he's after Harry Potter. But why? And why do the Dementors, the guards hired to protect him, chill Harry's very heart when others are unaffected? Once again, Rowling has created a mystery that will have children and adults cheering, not to mention standing in line for her next book. Fortunately, there are four more in the works.




Why I Love It::

As a freshman in college, I stopped reading for pleasure. My mom had been recommending this series for a while and I, being the bratty teen I was, brushed her off. Then the movie came out and i fell in love. i remember going out to buy the first four books and locking myself in a my dorm for weekend, marathoning through. I'm sure you can fill in the blanks why this series made the list.
THE QUILLAN GAMES

Book Series::

Pendragon, Book #7

Author::

D.J. MacHale (Twitter)

Genre(s)::

Y

A, Science Fiction, Supernatural




Let the Games Begin...

Quillan is a territory on the verge of destruction. The people have lost control of their own future and must struggle simply to survive. The only chance they have of finding a better life is by playing the Quillan Games. Hosted by a strange pair of game masters, Veego and LaBerge, the games are a mix of sport and combat. They use the people of Quillan as pawns for their amusement as they force them to enter competitions that range from physical battles, to impossible obstacle courses, to computer-driven tests of agility. To triumph in the games is to live the life of a king. To lose is to die.

This is the dangerous and deadly situation Bobby Pendragon finds on Quillan. He quickly realizes that the only way to save this troubled territory is to beat Veego and LaBerge at their own games and dismantle their horrible fun house. But there is more at stake for Bobby. The prize for winning the Quillan Games may be discovering the truth of what it really means a Traveler.


Why I Love It::

I discovered this series in-between Harry Potter books (seeing a trend, anyone). I fell in love with the idea of the Travelers and hadn't read time-travel series before.


Also, before you brush this off as too similar to The Hunger Games, this book was published two years before The Hunger Games began

—

the books not the movie. And each book in the series takes place in a different world, so the preceding and subsequent are nothing like this one.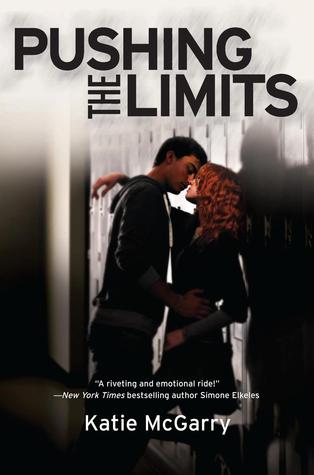 PUSHING THE LIMITS

Book Series::

Pushing the Limits, Book #1

Author::

Katie McGarry (Twitter)

Genre(s)::

New Adult, Contemporary Romance




So wrong for each other …and yet so right.


No one knows what happened the night Echo Emerson went from popular girl with jock boyfriend to gossiped-about outsider with "freaky" scars on her arms. Even Echo can't remember the whole truth of that horrible night. All she knows is that she wants everything to go back to normal.

But when Noah Hutchins, the smoking-hot, girl-using loner in the black leather jacket, explodes into her life with his tough attitude and surprising understanding, Echo's world shifts in ways she could never have imagined. They should have nothing in common. And with the secrets they both keep, being together is pretty much impossible.

Yet the crazy attraction between them refuses to go away. And Echo has to ask herself just how far they can push the limits and what she'll risk for the one guy who might teach her how to love again.




Why I Love It::

This was my first New Adult series. Katie is another master storyteller. Her character development is compelling, and the love stories are far from cliche.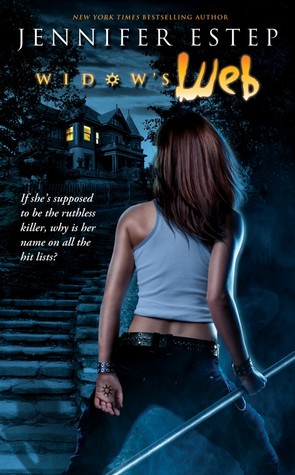 WIDOW'S WEB

Book Series::

Elemental Assassin, Book #7

Author::

Jennifer Estep (Twitter)

Genre(s)::

Urban Fantasy, Paranormal, Magic




I used to murder people for money, but these days it's more of a survival technique.


Once an assassin, always an assassin. So much for being plain old Gin Blanco. With every lowlife in Ashland gunning for me, I don't need another problem, but a new one has come to town.

Salina might seem like a sweet Southern belle, but she's really a dangerous enemy whose water elemental magic can go head-to-head with my own Ice and Stone power. Salina also has an intimate history with my lover, Owen Grayson, and now that she's back in town, she thinks he's hers for the taking.

Salina's playing a mysterious game that involves a shady local casino owner with a surprising connection to Owen. But they call me the Spider for a reason. I'm going to untangle her deadly scheme, even if it leaves my love affair hanging by a thread.




Why I Love It::

It's hard to explain. I'm not as huge of a fan of Gin's as I am with loving everything else about the story. Weird, right?

Audiobook Loyal::

Kudos to Lauren Fortgang!
NICE GIRLS DON'T HAVE FANGS

Book Series::

Jane Jameson, Book #1

Author::

Molly Harper (Twitter)

Genre(s)::

Urban Fantasy, Paranormal, Humor




Maybe it was the Shenanigans gift certificate that put her over the edge. When children's librarian and self-professed nice girl Jane Jameson is fired by her beastly boss and handed twenty-five dollars in potato skins instead of a severance check, she goes on a bender that's sure to become Half Moon Hollow legend. On her way home, she's mistaken for a deer, shot, and left for dead. And thanks to the mysterious stranger she met while chugging neon-colored cocktails, she wakes up with a decidedly unladylike thirst for blood.

Jane is now the latest recipient of a gift basket from the Newly Undead Welcoming Committee, and her life-after-lifestyle is taking some getting used to. Her recently deceased favorite aunt is now her ghostly roommate. She has to fake breathing and endure daytime hours to avoid coming out of the coffin to her family. She's forced to forgo her favorite down-home Southern cooking for bags of O negative. Her relationship with her sexy, mercurial vampire sire keeps running hot and cold. And if all that wasn't enough, it looks like someone in Half Moon Hollow is trying to frame her for a series of vampire murders. What's a nice undead girl to do?




Why I Love It::

Molly Harper cracks me up. I love her so much.

Audiobook Loyal::

Amanda Ronconi gets a lot of credit. She Is Molly's exclusive narrator and they're one hell of a dynamic duo!