"Book Beginnings"
is a weekly event that shares the first sentence (or so) of the book you are reading, along with your initial thoughts about the sentence, impressions of the book, or anything else the opener inspires.
"The Friday 56"
is also a weekly event, sharing a sentence from page 56 or 56% in your eReader (If you have to improvise, that's ok.)
My Pick This Week:
The Martian by Andy Weir
"I'm pretty much fucked.
That's my considered opinion.
Fucked.

Six days into what should be the greatest two months of my life, and it's turned into a nightmare.

I don't even know who'll read this. I guess someone will find it eventually. Maybe a hundred years from now. "
~ p. 1



"I had twelve potatoes to work with.

I am one lucky son of a bitch they aren't freeze-dried or mulched. Why did NASA send twelve whole potatoes, refrigerated but not frozen? And why send them along with us as in-pressure cargo rather than in a crate with the rest of the Hab supplies? Because Thanksgiving was going to happen while we were doing surface operations, and NASA's shrinks thought it would be good for us to make a meal together. Not just to eat it, but to actually prepare it. There's probably some logic to that, but who cares?"
~ p. 56
My Thoughts:
This is the February Book of the Month for my Nerds and Novels (SoCal Chapter) book club. I'm liking it so far, though there's a lot of math coming my way. Not a strong suit of mine, but who knows, maybe I'll learn something.
Book Synopsis: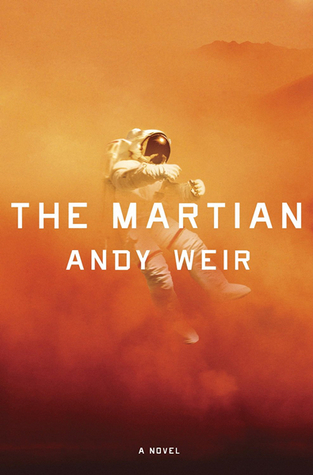 Title:

The Martian

Author:

Andy Weir (Facebook)

Genres:

Science Fiction, Adventure, Thriller

Format:

Audiobook (Amazon | Audible)

Length:

10 hours and 53 minutes

Release Date:

February 11, 2013


Book Club (Feb Book of the Month):

Nerds and Novels (SoCal Chapter)


Reading Challenges:

2015 Goodreads Challenge, 2015 Audiobook Challenge
Six days ago, astronaut Mark Watney became one of the first men to walk on the surface of Mars. Now, he's sure he'll be the first man to die there.

It started with the dust storm that holed his suit and nearly killed him, and that forced his crew to leave him behind, sure he was already dead. Now he's stranded millions of miles from the nearest human being, with no way to even signal Earth that he's alive--and even if he could get word out, his food would be gone years before a rescue mission could arrive. Chances are, though, he won't have time to starve to death. The damaged machinery, unforgiving environment, or plain-old "human error" are much more likely to get him first.

But Mark isn't ready to give up yet. Drawing on his ingenuity, his engineering skills--and a relentless, dogged refusal to quit--he steadfastly confronts one seemingly insurmountable obstacle after the next. But will his resourcefulness be enough to overcome the impossible odds against him?