This meme shares what we read this past week and what our plans are for the upcoming week. It's a great way to see what others are reading and add to your own To Be Read list.
STRIKE

Genres:

YA, Dystopian, Science Fiction, Post Apocalyptic, Mystery

Length:

11 hours & 43 minutes

Release Date:

October 14, 2014




Reading Challenges:

2015 Goodreads Challenge, 2015 Audiobook Challenge

BOOK #1 REVIEW:

SYLO

BOOK #2 REVIEW:

STORM




#1 New York Times bestselling author D.J. MacHale is back with the third book in the SYLO Chronicles. Once again, Tucker Pierce and friends must fight for their lives against the better-equipped SYLO. All bets are off in Strike—with twists so big readers will never see them coming—while the action and pulse-pounding suspense remain as high as ever. Fans will be sure to devour this incredibly satisfying conclusion.
~~~~~~~~~~~~~~~~~~~~~~
When unworldly student Anastasia Steele first encountered the driven and dazzling young entrepreneur Christian Grey it sparked a sensual affair that changed both of their lives irrevocably. Shocked, intrigued, and, ultimately, repelled by Christian's singular erotic tastes, Ana demands a deeper commitment. Determined to keep her, Christian agrees.

Now, Ana and Christian have it all—love, passion, intimacy, wealth, and a world of possibilities for their future. But Ana knows that loving her Fifty Shades will not be easy, and that being together will pose challenges that neither of them would anticipate. Ana must somehow learn to share Christian's opulent lifestyle without sacrificing her own identity. And Christian must overcome his compulsion to control as he wrestles with the demons of a tormented past.

Just when it seems that their strength together will eclipse any obstacle, misfortune, malice, and fate conspire to make Ana's deepest fears turn to reality.
Sometimes you have to look at life in a whole new way...
Rosie and Alex are destined for one another, and everyone seems to know it but them. Best friends since childhood, their relationship gets closer by the day, until Alex gets the news that his family is leaving Dublin and moving to Boston. At 17, Rosie and Alex have just started to see each other in a more romantic light. Devastated, the two make plans for Rosie to apply to colleges in the U.S.
She gets into Boston University, Alex gets into Harvard, and everything is falling into place, when on the eve of her departure, Rosie gets news that will change their lives forever: She's pregnant by a boy she'd gone out with while on the rebound from Alex.
Her dreams for college, Alex, and a glamorous career dashed, Rosie stays in Dublin to become a single mother, while Alex pursues a medical career and a new love in Boston. But destiny is a funny thing, and in this novel, structured as a series of clever e-mails, letters, notes, and a trail of missed opportunities, Alex and Rosie find out that fate isn't done with them yet.
~~~~~~~~~~~~~~~~~~~~~~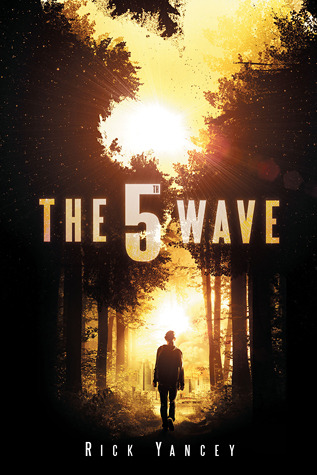 Genres:

YA, Dystopian, Science Fiction, Post Apocalyptic, Aliens
Release Date:

May 7, 2013
Reading Challenges:
2015 Goodreads Challenge
After the 1st wave, only darkness remains. After the 2nd, only the lucky escape. And after the 3rd, only the unlucky survive. After the 4th wave, only one rule applies: trust no one.
Now, it's the dawn of the 5th wave, and on a lonely stretch of highway, Cassie runs from Them. The beings who only look human, who roam the countryside killing anyone they see. Who have scattered Earth's last survivors. To stay alone is to stay alive, Cassie believes, until she meets Evan Walker.
Beguiling and mysterious, Evan Walker may be Cassie's only hope for rescuing her brother—or even saving herself. But Cassie must choose: between trust and despair, between defiance and surrender, between life and death. To give up or to get up.