This meme shares what we read this past week and what our plans are for the upcoming week. It's a great way to see what others are reading and add to your own To Be Read list.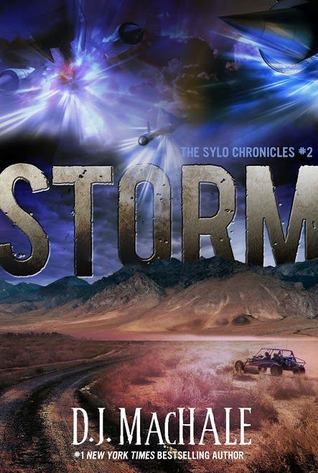 STORM

Genres:

YA, Dystopian, Science Fiction, Post Apocalyptic, Mystery

Length:

12 hours & 12 minutes

Release Date:

March 25, 2014




Reading Challenges:

2015 Goodreads Challenge, 2015 Audiobook Challenge

BOOK #1 REVIEW:

SYLO

After a harrowing escape from Pemberwick Island, Tucker Pierce and his surviving friends—Tori, Kent, and Olivia—have finally reached the mainland, only to find that no one is left.

That's not their only sickening discovery. Moments before they are attacked by another of the mysterious black planes, they investigate one's wreck and are horrified to find that it bears the logo of the U.S. Air Force. This can only mean one thing: the United States is at war with itself—the deadly technology of the Air Force against the brute force of the Navy's SYLO unit, which still holds Pemberwick Island and its residents captive.

Tucker must lead his friends to safety, but his head is spinning. How can the Air Force be perpetuating such genocide against not only its own citizens, but the world? What is SYLO's role in this, and why did Tucker's parents betray him by allying with SYLO, whose commander, Captain Granger, killed Tori's father at point-blank range? And what did his mother mean when she told him to trust no one?

Tucker, Tori, and friends set off cross-country on a quest for answers and, for Tucker, vengeance. But as one highway gives way to the next—and one death-defying escape precedes another—Tucker soon realizes that "trust no one" doesn't just mean the U.S. military.
~~~~~~~~~~~~~~~~~~~~~~
When unworldly student Anastasia Steele first encountered the driven and dazzling young entrepreneur Christian Grey it sparked a sensual affair that changed both of their lives irrevocably. Shocked, intrigued, and, ultimately, repelled by Christian's singular erotic tastes, Ana demands a deeper commitment. Determined to keep her, Christian agrees.

Now, Ana and Christian have it all—love, passion, intimacy, wealth, and a world of possibilities for their future. But Ana knows that loving her Fifty Shades will not be easy, and that being together will pose challenges that neither of them would anticipate. Ana must somehow learn to share Christian's opulent lifestyle without sacrificing her own identity. And Christian must overcome his compulsion to control as he wrestles with the demons of a tormented past.

Just when it seems that their strength together will eclipse any obstacle, misfortune, malice, and fate conspire to make Ana's deepest fears turn to reality.
A masterful, twisted tale of ambition, jealousy, betrayal, and superpowers, set in a near-future world.
Victor and Eli started out as college roommates—brilliant, arrogant, lonely boys who recognized the same sharpness and ambition in each other. In their senior year, a shared research interest in adrenaline, near-death experiences, and seemingly supernatural events reveals an intriguing possibility: that under the right conditions, someone could develop extraordinary abilities. But when their thesis moves from the academic to the experimental, things go horribly wrong. Ten years later, Victor breaks out of prison, determined to catch up to his old friend (now foe), aided by a young girl whose reserved nature obscures a stunning ability.
Meanwhile, Eli is on a mission to eradicate every other super-powered person that he can find—aside from his sidekick, an enigmatic woman with an unbreakable will. Armed with terrible power on both sides, driven by the memory of betrayal and loss, the archnemeses have set a course for revenge—but who will be left alive at the end?
In Vicious, V. E. Schwab brings to life a gritty comic-book-style world in vivid prose: a world where gaining superpowers doesn't automatically lead to heroism, and a time when allegiances are called into question.'
~~~~~~~~~~~~~~~~~~~~~~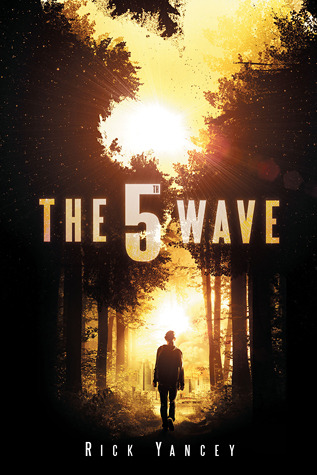 Genres:

YA, Dystopian, Science Fiction, Post Apocalyptic, Aliens
Release Date:

May 7, 2013
Reading Challenges:
2015 Goodreads Challenge
After the 1st wave, only darkness remains. After the 2nd, only the lucky escape. And after the 3rd, only the unlucky survive. After the 4th wave, only one rule applies: trust no one.
Now, it's the dawn of the 5th wave, and on a lonely stretch of highway, Cassie runs from Them. The beings who only look human, who roam the countryside killing anyone they see. Who have scattered Earth's last survivors. To stay alone is to stay alive, Cassie believes, until she meets Evan Walker.
Beguiling and mysterious, Evan Walker may be Cassie's only hope for rescuing her brother—or even saving herself. But Cassie must choose: between trust and despair, between defiance and surrender, between life and death. To give up or to get up.