Each week we will post a characteristic and choose 5 of our favorite cover's with that characteristic.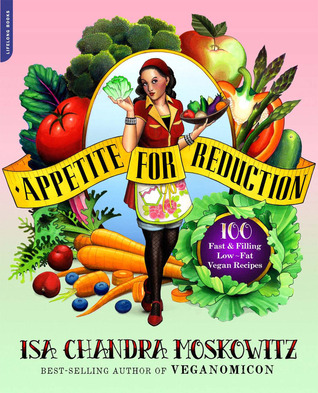 #5

Title:

Appetite for Reduction: 125 Fast and Filling Low-Fat Vegan Recipes

Author:

Isa Chandra Moskowitz (Twitter)

Genre:

Food & Drink, Cookbooks, Cooking, Diet, Health, Vegan
This is not your mother's low-fat cookbook. There's no foolish tricks, no bizarre concoctions, no chemicals, no frozen meals…no fake anything!Appetite for Reduction means cooking with real food, for real life. (Skimpy portions need not apply.)
In Appetite for Reduction, bestselling author and vegan chef Isa Chandra Moskowitz has created 125 delectable, nutritionally-balanced recipes for the foods you crave—lasagna, tacos, barbecue, curries, stews, and much more--and it's all:
--Only 200 to 400 calories per serving
--Plant-based and packed with nutrients
--Low in saturated fat and sugar; high in fiber
--Drop-dead delicious
You'll also find lots of gluten-free and soy-free options, and best of all, dinner can be on the table in less than 30 minutes. So ditch those diet shakes. Skip that lemonade cleanse. And fight for your right to eat something satisfying! Now you can look better, feel better, and have more energy for health at any size.
-

#4

Title:

Betty Goes Vegan: Over 500 Classic Recipes for the Modern Family

Author:

Annie & Dan Shannon (Twitter)

Genre:

Food & Drink, Cookbooks, Cooking, Diet, Health, Vegan BETTY GOES VEGAN

is a comprehensive guide to creating delicious meals for today's vegan family. This must-have cookbook features recipes inspired by The Betty Crocker Cookbook, as well as hundreds of original, never-before-seen recipes sure to please even meat-eaters. It also offers insight into why Betty Crocker has been an icon in American cooking for so long-- and why she still represents a certain style of the modern super-woman nearly 100 years after we first met her. With new classics for breakfast, lunch, dinner, and dessert, including omelets, stews, casseroles, and brownies,

BETTY GOES VEGAN

is the essential handbook every vegan family needs.
-
#3

Title:

Pure Vegan: 70 Recipes for Beautiful Meals and Clean Living

Author:

Joseph Shuldiner

Genre:

Food & Drink, Cookbooks, Cooking, Diet, Health, Vegan Pure Vegan

proves that embracing a vegan lifestyle can be stylish and beautiful via 70 recipes that are both plant-based and indulgent. The only vegan cookbook that celebrates eating and enjoyment rather than emphasizing the politics of a vegan lifestyle, this beautiful compilation features novel, vivacious recipes. Yes, they re non-meat-egg-dairy, and they re fabulous! Pure ingredients and unique combinations appeal to meat lovers and committed vegans alike. Breakfast, lunch, dinner, and snacks are represented, and a special chapter is dedicated to late-night indulgences such as chocolate truffles and herbal cocktails. Seventy-five gorgeous pictures round out this fetching package.
-
#2

Title: Herb, the Vegetarian Dragon

Author:

Jules Bass (Twitter)

Genre:

Childrens, Picture Books, Fantasy, Dragons, Health, Food & Drink, Diet, Vegetarian

All the dragons in the forest of Nogard like nothing better than raiding Castle Dark and carrying off princesses to eat all the dragons, that is, except one. Herb is at his happiest tending his vegetable patch, for Herb is a vegetarian. So it is unfortunate that he is the one captured by the castle s knights in armor. Treacherous Meathook and his dragon cronies will only help Herb if he agrees to eat meat will he give in to their blackmail? Jules Bass s lighthearted story combines with Debbie Harter s jaunty illustrations to make this a hilarious picture book that also offers young readers plenty of food for thought.
Title:

The Voluptuous Vegan: More Than 200 Sinfully Delicious Recipes for Meatless, Eggless, and Dairy-Free Meals


Author:

Myra Kornteid and George Minot


Genre:

Food & Drink, Cookbooks, Cooking, Diet, Health, Vegan
There are many great reasons to eat vegetarian meals -- they're low in saturated fat, high in fiber, and chock-full of nutrients. But the considerable health benefits aside, gourmets often scoff at the likes of seitan and tofu, while vegans despair of dull, uninspired offerings. Until now. In The Voluptuous Vegan, Myra Kornfeld introduces creative, mouthwatering, truly voluptuous recipes that inject this incredibly healthy cuisine with a much-needed dose of culinary mastery, including:

* full, balanced menus with appetizer, main course, and side dishes
* a luscious array of soups and an ingenious selection of desserts
* invaluable information on terms, ingredients, and techniques
* a culinary world tour including Latin America, Asia, Africa, and the Middle Fast, as well as Europe and the United States