Each week we will post a characteristic and choose 5 of our favorite cover's with that characteristic.
#5

Title:

Better Homes and Hauntings (Audible)

Author:

Molly Harper (Twitter)

Genre:

Paranormal Romance, Ghosts, Humor
When Nina Linden is hired to landscape a private island off the New England coast, she sees it as her chance to rebuild her failing business after being cheated by her unscrupulous ex. She never expects that her new client, software mogul Deacon Whitney, would see more in her than just a talented gardener. Deacon has paid top dollar to the crews he's hired to renovate the desolate Whitney estate—he had to, because the bumps, thumps, and unexplained sightings of ghostly figures in nineteenth-century dress are driving workers away faster than he can say "Boo."
But Nina shows no signs of being scared away, even as she experiences some unnerving apparitions herself. And as the two of them work closely together to restore the mansion's faded glory, Deacon realizes that he's found someone who doesn't seem to like his fortune more than himself—while Nina may have finally found the one man she can trust with her bruised and battered heart.
But something on the island doesn't believe in true love…and if Nina and Deacon can't figure out how to put these angry spirits to rest, their own love doesn't stand a ghost of a chance.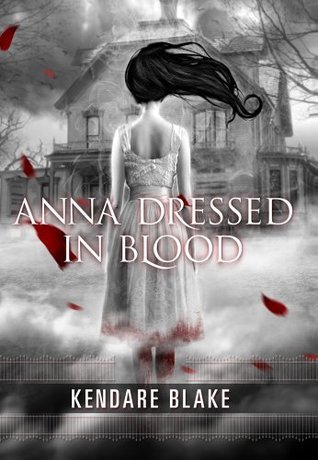 -

#4

Title:

Anna Dressed in Blood Book Series: Anna, Book #1

Author:

Kendare Blake (Twitter)

Genre:

YA, Paranormal, Horror, Ghosts

Cas Lowood has inherited an unusual vocation: He kills the dead.

So did his father before him, until he was gruesomely murdered by a ghost he sought to kill. Now, armed with his father's mysterious and deadly athame, Cas travels the country with his kitchen-witch mother and their spirit-sniffing cat. They follow legends and local lore, destroy the murderous dead, and keep pesky things like the future and friends at bay.

Searching for a ghost the locals call Anna Dressed in Blood, Cas expects the usual: track, hunt, kill. What he finds instead is a girl entangled in curses and rage, a ghost like he's never faced before. She still wears the dress she wore on the day of her brutal murder in 1958: once white, now stained red and dripping with blood. Since her death, Anna has killed any and every person who has dared to step into the deserted Victorian she used to call home.

Yet she spares Cas's life.
-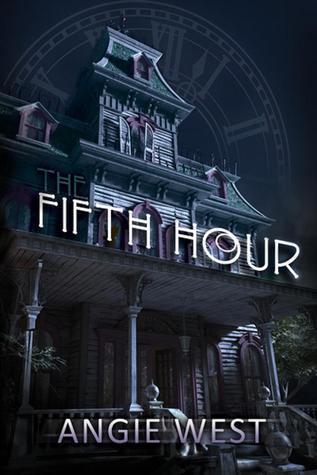 #3

Title:

The Fifth Hour

Author:

Angie West

Genre:

Paranormal Romance, Ghosts, Mystery, Suspense


Broken Dreams...

After receiving the bad news about their foundation, the Scotts' decide it makes more sense to tear down and rebuild. It is then that the activity starts. Things that would challenge everything they believe in and test the family's resolve in ways they hadn't counted on.

Broken Promises...

Enter Chris and Ginger Malhaven of Atlanta, Georgia. Chris, a paranormal-fanatic-turned-renowned-investigator, and Ginger, a spitfire who's determined to forget about the man who broke her heart in high school.

Lives Intertwined.

But if Ginger thought avoiding her determined ex-boyfriend and helping her brother solve the Scott's case would be easy, she was dead wrong. Fate, it would seem, has other plans. A two-week mid-summer investigation is about to reunite a family and give Ginger a second chance at love-if she's bold enough to take it.
-
#2

Title: The House of Lost Souls

Author:

F.G. Cottam (Twitter)

Genre:

Paranormal, Horror, Suspense, Mystery
The Fischer House was the scene of a vicious crime in the 1920s - a crime which still resonates as the century turns. At its heart was a beautiful, enigmatic woman called Pandora Gibson-Hoare, a photographer of genius whose only legacy is a handful of photographs and the clues to a mystery. Paul Seaton was lured to the house ten years ago and escaped, a damaged man. Now three students will die unless he dares to go back. But this time he has Nick Mason at his side, and maybe Mason's military skills and visceral courage will be enough.
-
Title:

The Orchid House


Author:

Lucinda Riley


Genre:

Historical Romance
For fans of The House at Riverton and Rebecca—a debut spanning from the 1930s to the present day, from a magnificent estate in war-torn England to Thailand, this sweeping novel tells the tale of a concert pianist, Julia, and the prominent Crawford family whose shocking secrets are revealed, leading to devastating consequences for generations to come.

As a child Julia Forrester spent many idyllic hours in the hothouse of Wharton Park, the great house where her grandfather tended exotic orchids. Years later, while struggling with overwhelming grief over the death of her husband and young child, she returns to the tranquility of the estate. There she reunites with Kit Crawford, heir to the estate and her possible salvation.

When they discover an old diary, Julia seeks out her grandmother to learn the truth behind a love affair that almost destroyed Wharton Park. Their search takes them back to the 1930s when a former heir to Wharton Park married his young society bride on the eve of World War II. When the two lovers are cruelly separated, the impact will be felt on generations to come.

Lucinda Riley skillfully sweeps her readers between the magical world of Wharton Park and Thailand during World War II with irresistible and atmospheric storytelling. Filled with twists and turns, passions and lies, and ultimately redemption, The Orchid House is a romantic, poignant novel that became an instant bestseller in the UK and Germany.