Each week we will post a characteristic and choose 5 of our favorite cover's with that characteristic.
#5

Title:

Incompatible

Author:

Chantelle Feasel (Twitter)

Genre:

Science Fiction, Genetics, Science Experimentation
…There's got to be more to love than a number. There's a feeling; somewhere deep inside, that triggers, that ignites, when we meet the one…
When the pressure of a palm print against a cold, hard screen can instantaneously identify a good match based on genetics, few would waste time trying to determine the resilience of a relationship on their own.
Except Ruby.
At eighteen Ruby is recruited for a trial, entering blindly into a government experiment for an undisclosed length of time. Surrounded by peers and the buddings of newly-brewing affairs, Ruby finds her interests captured by a handsome neighbor almost immediately. Stubborn with the belief that she alone can determine a relationship's validity, the couple chooses not to check compatibility… until it's too late.
She soon finds herself in conundrums of proportions she's never realized possible, only to discover she knows nothing about the place she lives or the world outside of her confinement.
-

#4

Title:

Shudder

Book Series:

Stitch Trilogy, Book #2

Author:

Samantha Durante (Twitter)

Genre:

YA, Science Fiction, Dystopian, Paranormal

It's only been three days, and already everything is different.

Paragon is behind her, but somehow Alessa's life may actually have gotten worse. In a wrenching twist of fate, she traded the safety and companionship of her sister for that of her true love, losing a vital partner she'd counted on for the ordeal ahead. Her comfortable university life is but a distant memory, as she faces the prospect of surviving a bleak winter on the meager remains of a ravaged world. And if she'd thought she'd tasted fear upon seeing a ghost, she was wrong; now she's discovering new depths of terror while being hunted by a deadly virus and a terrifying pack of superhuman creatures thirsting for blood.

And then there are the visions.

The memory-altering "stitch" unlocked something in Alessa's mind, and now she can't shake the constant flood of alien feelings ransacking her emotions. Haunting memories of an old flame are driving a deep and painful rift into her once-secure relationship. And a series of staggering revelations about the treacherous Engineers - and the bone-chilling deceit shrouding her world's sorry history - will soon leave Alessa reeling...



-
#3

Title:

Genetika

Book Series:

Akva rium, Book #1

Author:

Darion D'Anjou (

Twitter

)

Genre:

Science Fiction, Thriller, Graphic Novels




2172. The Golden Age of Genetic Manipulation.

Retro-naturalist marine biologist Demi Myers is an anachronism. She is a Natural Born in an age of enhanced, everything. Unmarried and childless Demi just doesn't seem to fit into her time, but supernational Tagacca Corporation sees a perfect fit for her among its team of elite scientific researchers, handpicked for a top secret bleeding edge biotechnology project.

Under veiled pretenses, this team of the world's top scientists is sent to an underwater prison facility to unwittingly create an interspecies genetic hybrid. When the experiment goes wrong Natural Born Demi Myers must lead the remaining team members as they fight for their lives against a next generation super-predator of their own creation.

By the time you see it coming, it's already there...

In a world where control of technology drives hidden agendas and grabs for power, the team soon discovers that the greatest threat to their survival may not be the genetically enhanced monster trying to kill them.

"GENETIKA: Akva rium, book i" is the debut novel in the futuristic "Akva rium" branch of the science fiction thriller series Genetika that deals with biotechnology, cloning, immortality, and the secret ongoing struggle for power and technology.

Enter the world of Genetika. The 1% of the 1% who live among us. They look like us. They act like us. But they are not like us. They see and hear farther. They think and move faster. They never sleep. They live forever. And they will stop at nothing to maintain the privileged secrecy of their existence.
-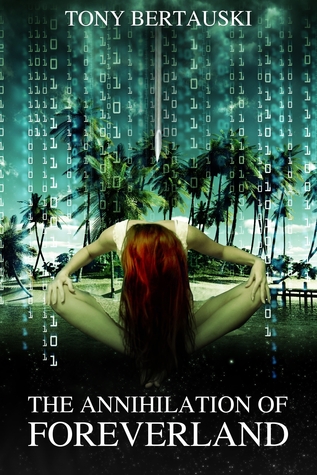 #2

Title: The Annihilation of Foreverland

Book Series:

Foreverland, Book #1

Author:

Tony Bertauski (Facebook)

Genre:

YA, Science Fiction, Dystopian
When kids awake on an island, they're told there was an accident. Before they can go home, they will visit Foreverland, an alternate reality that will heal their minds.

Reed dreams of a girl that tells him to resist Foreverland. He doesn't remember her name, but knows he once loved her. He'll have to endure great suffering and trust his dream. And trust he's not insane.

Danny Boy, the new arrival, meets Reed's dream girl inside Foreverland. She's stuck in the fantasy land that no kid can resist. Where every heart's desire is satisfied. Why should anyone care how Foreverland works?
-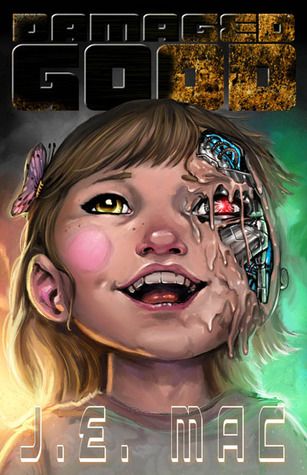 Title:

Damaged Good


Author:

J.E. Mac (Twitter

)




Genre:

Science Fiction, Dystopian, Androids, Mystery Thriller
SOME DAMAGE IS BEYOND REPAIR

When Celia, a six year old child replacement, gets caught up in an assassination attempt on the Mayor of Los Angeles, Detective Jack Cutter is obliged to protect and serve despite any misgivings he may have towards her kind.

You'd never hear Cutter say he hates androids. Not out loud anyway. Damn synthetics hear everything.
Cutter drags Celia from grisly murder scene to cracked-out cyber-den, hot on the trail of the assassin. As they sink deeper into the case, a far more sinister scheme emerges which threatens the lives of all Angelenos and the only way to stop it lies in the head of a childish android.

DAMAGED GOOD is a fast paced science fiction thriller set in the dystopic near future of Los Angeles.