"Book Beginnings"
is a weekly event that shares the first sentence (or so) of the book you are reading, along with your initial thoughts about the sentence, impressions of the book, or anything else the opener inspires.
"The Friday 56"
is also a weekly event, sharing a sentence from page 56 or 56% in your eReader (If you have to improvise, that's ok.)
My Pick This Week:
The Prey (The Hatchery #1) by Tom Isbell
"BLOOD. Purpling. Coagulating before his eyes.

Darkness presses against the outer reaches of his periphery, narrowing his vision. The world grows dim.

He reaches out a hand against the blood-smeared wall. Fingers squealing on tiles. Tries to call for help but the words get strangled in his throat. He collapses to the floor. Eyes land on a knife, its razor edge trimmed in red. Blood. His blood.

Darkness closing in. The world reduced to a pinprick. Fatigue washes over him like a summer storm.

My final moments, he realizes. All come down to this."
~ p. 1



"FINALLY, we came to a stop, lowered ourselves to the ground, and poked our heads above the ridge. Far below us lay a quiet valley: a meandering stream, dozens of scattered boulders.

"Why are we here again?" Flush asked. He was a few years younger, and not as patient as some of the others.

Cat just gave him a look. You'll see.

An hour passed. Just when I thought I couldn't take it anymore, we heard the growl of an engine and watched as a faded red pickup truck rounded a far ridge."
~ p. 56
My Thoughts:
I picked this up at the library when I wasn't supposed to be getting more books... because I was reading six already. It's a compulsion, don't judge me. But I recognized the cover and picked it up; before I knew it I was six chapters in. It's a quick but engaging read.
Book Synopsis: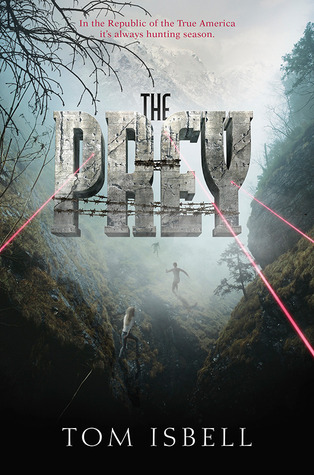 Genres:
YA, Dystopian, Science Fiction, Post Apocalyptic
Release Date:

January 20, 2015
Reading Challenges:
2015 Goodreads Challenge
In the Republic of the True America, it's always hunting season. Riveting action, intense romance, and gripping emotion make this fast-paced adventure a standout debut.




After a radiation blast burned most of the Earth to a crisp, the new government established settlement camps for the survivors. At one such camp, Book and the other 'LTs' are eager to graduate as part of the Rite.




Until they learn the dark truth: 'LTs' doesn't stand for lieutenant but for 'Less Thans', feared by society and raised to be hunted for sport. Together with the sisters, Hope and Faith, twin girls who've suffered their own haunting fate, they join forces to seek the safety of the fabled New Territory.